Pheasant Breasts Stuffed with Hazelnut, Bacon & Tart Cherries
Pheasant legs have sinew & small connective bones that can make them difficult to eat as you would a chicken leg. Here we've gotten around that problem by braising them and then stripping the meat for use as a stuffing.
The braised meat is blended with bacon, dried tart cherries & chopped hazelnuts, then packed into the pheasant breasts.
You'll have leftover stuffing, which is delicious in pasta sauces or stirred into rice.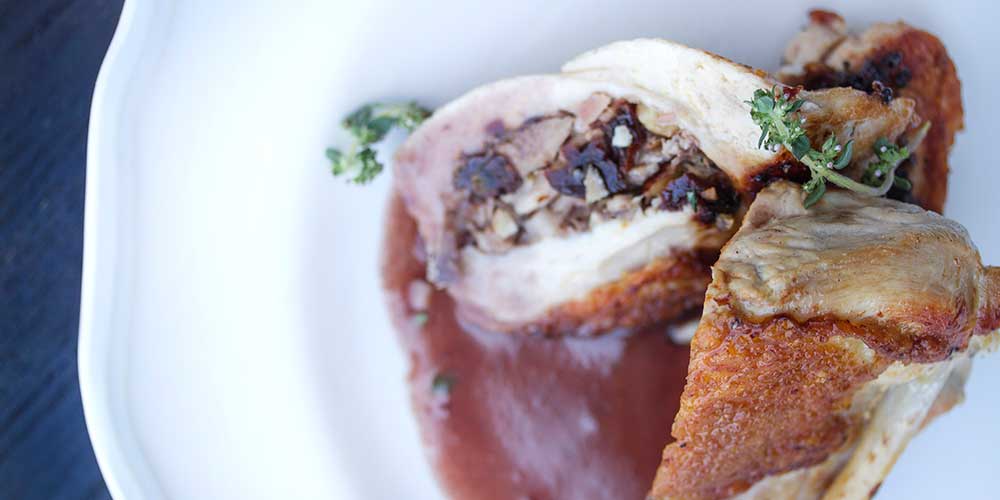 INGREDIENTS
Braising Liquid:

1 cup Red Wine

1 cup Water or Stock

Stuffing:
4 thick slices of Bacon, cut into lardons (we used Kurobuta Bacon)
3 tbsp chopped Hazelnuts

3 tbsp chopped Dried Tart Cherries

1 tsp chopped Fresh Thyme

Salt & Pepper to Taste

2 tbsp Unsalted Butter
DIRECTIONS
1
Preheat the oven to 300 degrees.
2
Combine the braising liquid ingredients in a pot.  Add the pheasant legs.  Bring the liquid to a boil, reduce the heat to a simmer and put the lid on the pot.
3
Move the pot to the oven and braise until the leg meat is tender (about 45 minutes).
4
Remove the pheasant legs from the braising liquid (reserve the liquid) and scrape all the meat off the bones.
5
Finely chop the leg meat.
6
Increase your oven temperature to 350 degrees.
7
Put the bacon in a frying pan and render out the fat over medium-high heat until the bacon is just starting to crisp up.  Remove the pan from the heat (reserving the fat) and chop the bacon into smaller pieces.
8
Mix the pheasant leg meat with the hazelnuts, dried cherries, rendered fat from the bacon and the chopped bacon pieces.
9
Either stuff the breasts & cook them right away, or chill the stuffing for later use.
10
Remove the tenderloin from each pheasant breast.  Cut a pocket into the side of each pheasant breast and fill the cavity with about 1 tablespoon of the stuffing.  Cover the hole with the tenderloin.
11
Put the pheasant breasts in a hot, oiled frying pan – skin-side down.  Sear them on both sides, then flip again so the skin-side is again down.  Move the pan to the oven.
12
Roast the pheasant breasts until cooked (approx. 10 minutes).
13
Skim the fat off of the braising liquid.  Pour it into a frying pan & simmer to reduce.
14
When the pan is almost dry, whisk in the unsalted butter to finish the sauce.
15
Slice the pheasant and serve it with the braising liquid sauce.