Harissa-Rubbed Rack of Lamb with Minted Peas
Makes 4 Servings
WINE PAIRING
Syrah from the Northern Rhone in France
The flavor of this dish will likely vary with the brand of harissa you use, but the Villa Jerada Harissa we carry (and think is by far the best) will impart a fair amount of spice. That kick is nicely balanced by the peas' natural butteriness.
We've seared & roasted the racks here. If you prefer, the lamb racks in this recipe can instead be cooked sous vide with salt, pepper, olive oil, and mint at 133°F for 2 hours, then rubbed with the harissa/yogurt mixture & briefly seared over high heat.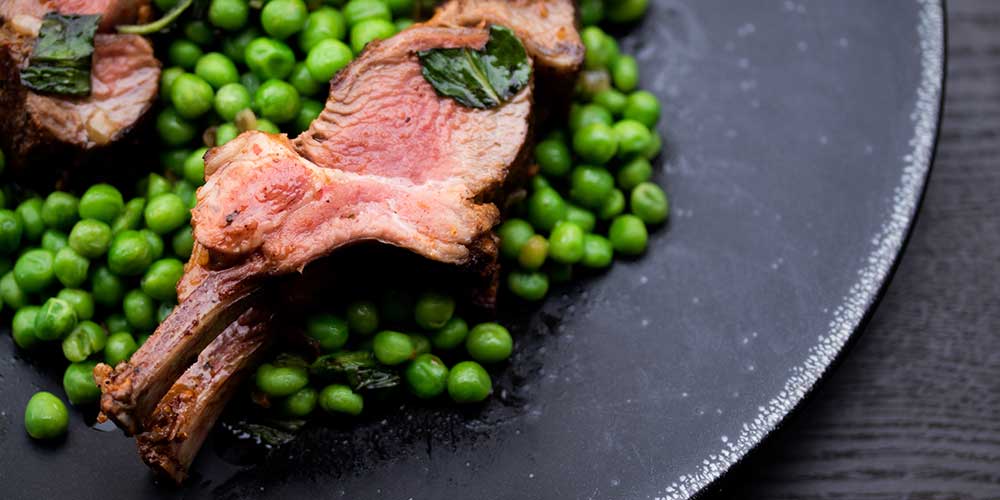 INGREDIENTS
Racks:
2 Small Lamb Racks

Salt & Pepper

2 tbsp Harissa

2 tbsp Full Fat Yogurt

Finishing Salt
Minted Peas:

1 tbsp Olive Oil

1 tbsp Unsalted Butter

¼ cup minced Red Onion

½ tsp Salt

2 tbsp Dry White Wine or Vermouth

1 lb Frozen Peas, thawed

¼ cup Rough-Chopped Mint Leaves
DIRECTIONS
1
Preheat your oven to 400°F.
2
Stir together the harissa & yogurt.
3
Season the lamb racks with salt & pepper. Sear them in a hot, well-oiled oven safe pan until browned on all sides.
4
Remove the racks from the pan & rub them with the harissa & yogurt mixture.
5
Return the racks to the pan & move the pan to the oven. Roast them until the meat reaches your desired level of doneness (we recommend an internal temperature of 133°F for Medium Rare).
6
Remove the racks from the oven to a clean plate. Let them rest, loosely covered with foil, for ten minutes.
7
While the racks are resting, get the olive oil & butter hot in a wide frying pan. Add the minced red onion & salt.
Sweat
it until it's semi-translucent, but hasn't started to brown.
8
Deglaze the pan with the wine/vermouth.
9
Stir in the peas & sauté them for a few minutes, then remove the pan from the heat & stir in the chopped mint leaves.
10
Slice the racks into single or double chops. Plate the chops atop the minted peas. Sprinkle them with a little finishing salt & serve.