Hanger Steak Udon Noodle Soup
Makes 4 Servings
WINE PAIRING
Barbera or Sauvignon Blanc
Noodles and grass-fed beef in a gingery, umami-rich warming broth cut with cilantro and a little bit of heat from the chile flakes. Comforting, relaxing & delicious. It may seem like the soup base has a lot of ingredients, but they blend together into an intensely satisfying result that's well worth raiding your pantry for.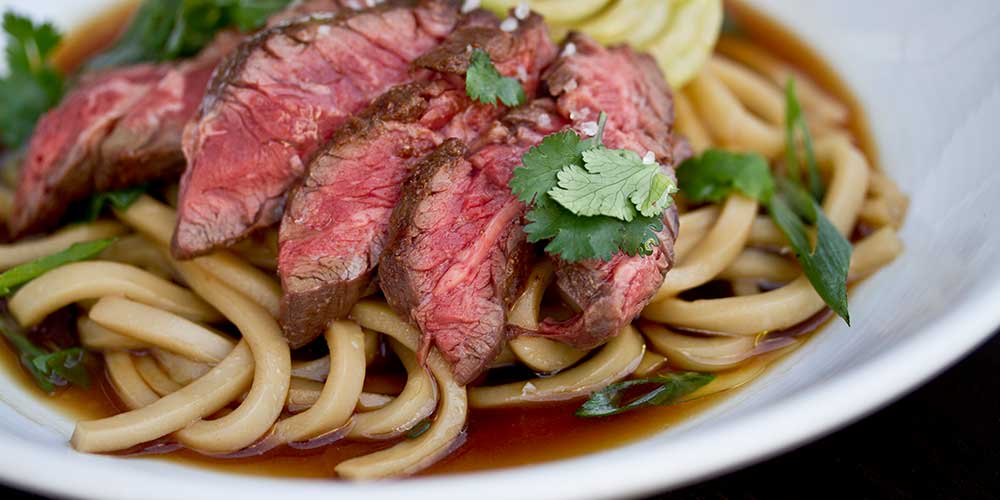 INGREDIENTS
1lb Fresh Udon Noodles
½ tsp Szechuan Pepper Salt (could substitute plain salt)
½ tsp Ground Coriander
1" length unpeeled Ginger Root
1 ½ tsp finely grated Ginger (ideally microplaned)
1/8 cup Tamari Soy Sauce
2 tsp Sherry Vinegar
½ tsp Red Pepper Flakes
½ tsp Granulated Sugar
2 tsp minced Garlic
32oz + 3 cups Beef Stock
½ bunch Fresh Cilantro Leaves, rough chopped
4 Baby Bok Choy, Quartered
Butternut Squash Seed Oil (could substitute Sesame Oil) to Taste
DIRECTIONS
1
Trim any gristle or excess fat off of the hanger steak. Season with Szechuan salt (or plain salt) & coriander.
2
Sear the steak in a hot, oiled cast-iron skillet or frying pan to your desired level of doneness. This can be done up to a day ahead if desired. Once the steak is done, move it to the fridge to cool.
3
Simmer the shiitake mushrooms in 32oz of beef stock for a half hour. Strain out the mushrooms & discard them.
4
Add the additional 3 cups of beef stock, tamari soy sauce, red pepper flakes, sugar, grated ginger, cilantro leaves, minced garlic and sherry vinegar to the infused stock.Lightly bruise the ginger by pounding it with a pot or the side of a knife. Add it to the broth.
5
Cook the udon noodles separately or simmer them in the broth until tender (about four minutes, see packaging for your brand's recommendation).
6
Thinly slice the cooled hanger steak.
7
Add the quartered bok choy to the broth and simmer until tender. Discard the ginger root piece.
8
Put the noodles in bowls, top them with the broth, steak and bok choy. Finish with a drizzle of butternut seed oil or sesame oil. Serve.