Halibut & Yuzu Ceviche with Yacon Root
Bright, citrusy with a hint of kick, this ceviche combines fluffy halibut chunks with corn, crisp apple and yacon root for a range of textures and flavors.  The combination of lime, orange zest, lemon and yuzu juice makes for a very complex citrus flavor.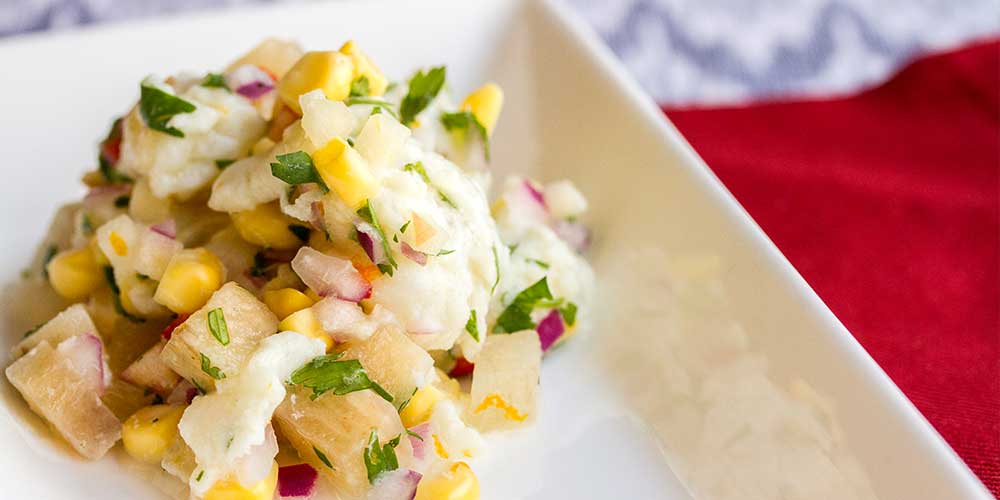 INGREDIENTS
1/2 pound Halibut, pre-frozen "sushi grade"

1/4 cup Yuzu Juice

Juice of 1 Lemon

Juice of 1/2 Lime

1/2 tsp Orange Zest

1/4 cup of kernels sliced from an ear of Sweet Corn

1/4 cup small diced Yacon Root, tossed in yuzu right away

2 Tbsp fine diced Apple, tossed in yuzu right away

2 Tbsp fine diced Red Onion

1 Tbsp fine diced Fresno or Serrano Pepper

Salt

2 Tbsp chopped Cilantro
DIRECTIONS
1
Slice the fish into small, bite-sized pieces.
2
Combine all the ingredients except cilantro in a non-reactive bowl or plastic container with a lid and refrigerate for a minimum of 30 minutes to a maximum of 90 minutes.
3
Add the cilantro, mix well, and serve very cold with chips.