Prosciutto-Wrapped Guinea Fowl Breasts with Black Truffle Butter & Microgreen Salad
Makes 2 Servings
WINE PAIRING
Dolcetto
This dish balances the delicate soft texture of sous vide guinea fowl, richness of the prosciutto, rich earthiness of the truffle butter, balanced with a bright microgreen salad.
We cooked this guinea fowl sous vide to help keep the lean meat exquisitely tender & moist. However you could also wrap the breasts in prosciutto, sear them, and move them to the oven to roast the rest of way through, finishing with melted truffle butter.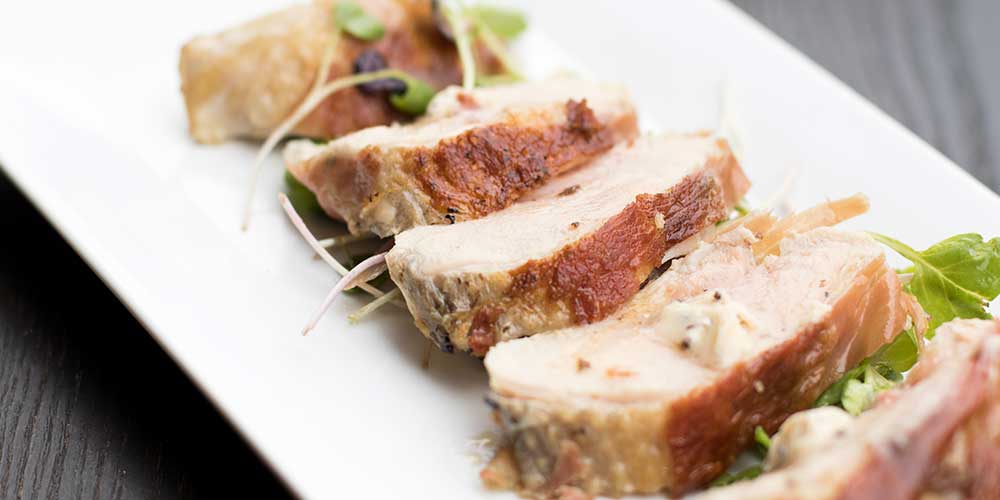 INGREDIENTS
Microgreen Salad:

Lemon Juice

Extra Virgin Olive Oil

Salt
Additional Black Truffle Butter to finish
DIRECTIONS
1
Preheat your sous vide machine to 161°F.
2
Vacuum pack the guinea fowl breasts with the black truffle butter, thyme and bay leaf.
3
Cook the guinea fowl breasts sous vide for 35 minutes.
4
Remove the cooked breasts from the bath and their bags. Pat them dry and wrap them with a layer of prosciutto. Sear both breasts in a hot oiled pan over medium-low, just until the prosciutto crisps.
5
Toss the microgreens with lemon juice, olive oil and salt to taste.
6
Slice the breasts and serve them with the microgreen salad, topped with a few dollops of truffle butter.