Brian from A Thought For Food won our 2010 Morel Recipe Challenge and is back with a victory lap and guest post.   
———–
Ever since I learned that I'd be receiving 2lbs of fresh morel mushrooms, I've spent a lot of time thinking about what I'd do with all of them.  I've thought of just about everything, from deep frying them to dipping them in chocolate (which I still might try… because anything dipped in chocolate, or deep fried, has to be good, right?).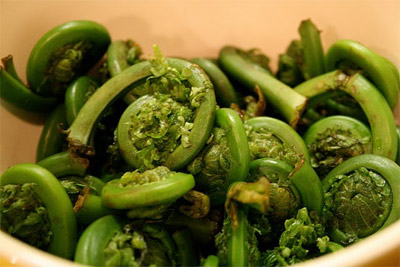 But when these beauties came in on Tuesday, I knew I had to take the time and make something really tasty (and not as risky as the options listed above).  One of my original ideas for the Marx Food Morel Recipe Challenge was to do a gnocchi dish with morels and fiddleheads.  But, alas, fiddleheads were not in season at the time and I decided to take things in a different direction.
The arrival of the 'shrooms gave me a reason to take a trip to Whole Foods.  And what did I find upon entering the produce section?  Fiddleheads!!!  Woo hoo!!!  I don't know how to explain my love for these little guys.  They're just so unique looking and they taste like asparagus, but with a nuttier flavor. 
For those of you who haven't had the pleasure of trying them, fiddleheads are the coiled fronds (or leaf) of a fern and are roughly 1 to 1.5 inches in diameter.  They are usually found from May (or slightly before) through early July. 
So, now that I've digressed, let me get back to the story.  As soon as I saw the fiddleheads, I  immediately knew what I was going to make: risotto.   
And what a delicious risotto this was.  The leftover liquid from the last batch of dried morels made for a perfect broth to cook the rice with.  I guess my one and only issue was peeling the pearl onions that I included in the dish.  The process was a bit tedious, but it was well worth it, as they added a subtle sweetness that complimented the mushrooms nicely.  At the bottom of the recipe, I've suggested a trick for dealing with the buggers. 
Risotto with Morels and Fiddleheads
(serves 4-6)
Ingredients
1 cup risotto [arborio or carnaroli rice] 3 cups morel mushroom broth (though any mushroom broth will do)
1/2 lb fiddleheads, rinsed thoroughly
1/4 lb morel mushrooms, rinsed, drained, quartered lengthwise
12-15 pearl onions, peeled***
2 cloves garlic, minced
2 tbs butter
2 tbs fresh thyme
2 tbs fresh parsley, diced, plus a few leaves for on top
1/2 tsp dried oregano
Salt, to taste
Black pepper, to taste
1/2 cup shredded Fontina, Parmesan, and/or Asiago cheese, reserving some for on top
In a large pan, heat butter at medium-high heat.  Add pearl onions, season with salt, pepper, and thyme and cook until they begin to brown.  Add garlic and stir, cooking for a minute.  Add risotto and stir for 2 minutes.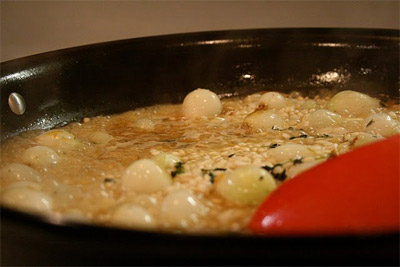 Reduce burner heat to medium and add one ladle of broth at a time, cooking and stirring until the liquid is absorbed.  Once the rice is al dente, add in mushrooms and fiddleheads and mix thoroughly.  Add cheese, oregano, some fresh diced parsley, and black pepper, to taste.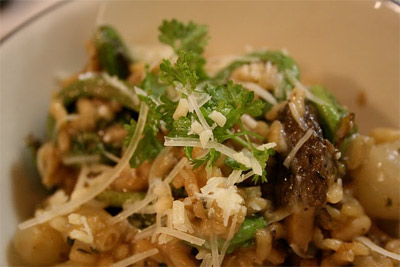 Serve in a bowl, top with shredded cheese and fresh parsley.
***Note: A trick to peeling pearl onions:  cut off the tip of the onion (the side opposite the root end), cook in boiling water for two minutes, drain and place onions in a bowl of ice water to stop the cooking (and to cool them), squeeze each onion gently on the root end and the onion (hopefully) should come out of the peel.
___________
Browse More:
Rice Recipes
Morel Mushroom Recipes
Fiddlehead Fern Recipes
Wild Produce Recipes
Cheese Recipes