Tammy Quackenbush lives in the San Francisco Bay Area. Her love of Korean food started when she taught ESL in Chuncheon, Gangwon-do, back in 1996-1997. However, she didn't become "famous" for her Korean cooking style until she started making cooking videos on YouTube as Koreanfornian Cooking in 2007. Her recipes and articles have been featured on Slice, Seriouseats.com, ZenKimchi Food Journal, SeoulEats.com, Korea.net and iFoodTV.com
Lemon Szechuan Soju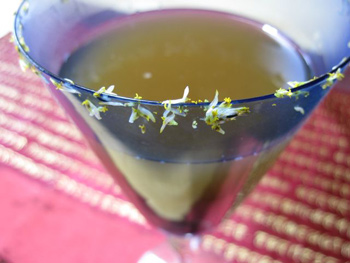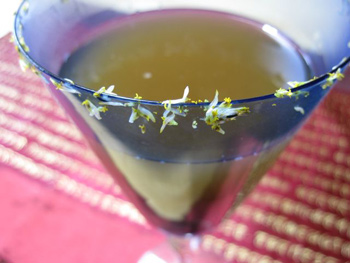 This is a refreshing cocktail built by blending fresh lemonade with soju (a Korean rice liquor). Rimming the glass with petals pinched from Szechuan buttons takes the citrus zing to a new level that'll not only pucker your lips but make them tingle too!
Ingredients:

50/50 Simple Syrup* made with 1 cup of water (How to Make Simple Syrup)
1 cup Lemon Juice
1 1/4th to 2 1/4th cups Cold Water
1 ¾ cups Soju
Szechuan Buttons
1. Chill the simple syrup thoroughly in the fridge.
2. Pinch the small petals off of the Szechuan buttons.
3. Blend the lemon juice, soju, simple syrup and 1 1/4th cups of cold water.
4. Taste. If it's stronger than you'd like, stir in up to an additional cup of cold water.
5. Rim the glass with the Szechuan button petals & serve!
*I used organic brown sugar in my simple syrup, so that's why my lemonade looks more brown than yellow. You could use less sugar in your simple syrup (1 cup water, ¾ cup sugar) for a more tart & healthier cocktail.
___________
Browse More:
Citrus Fruit Recipes
Szechuan Button Recipes
Cocktail & Beverage Recipes