Guanciale Pasta Carbonara
Makes 4 Servings
WINE PAIRING
Chardonnay
Take carbonara to new heights with intensely flavorful guanciale (cured pork jowl) instead of bacon. This version is creamy, cheesy, very lemony and porky.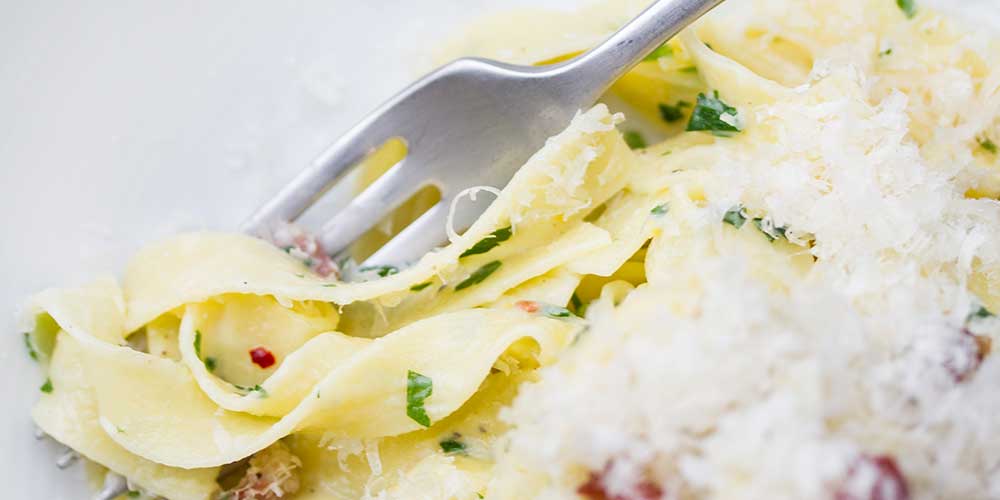 INGREDIENTS
1/4 lb Guanciale, diced

8.8oz Dry Tagliatelle

2 Eggs

1 cup of minced Fresh Italian Parsley

1 cup finely grated (microplaned) Parmigiano Reggiano Cheese

Red Chile Flakes to Taste

Zest of ½ Lemon

1 ½ tbsp Lemon Juice

1 tsp Meyer Lemon Olive Oil

1 tbsp Kosher Salt (for the pasta water)

Cracked Black Pepper to Taste
DIRECTIONS
1
Render the fat out of the guanciale in a cast iron skillet. Start at medium high heat, then when the skillet gets hot reduce the heat to medium low. When the guanciale is rendered, but not yet crispy, remove & reserve half. Leave the rest in the skillet until it crisps, then move it to a paper towel to drain.
2
Bring a pot of water to a rolling boil. Add the tablespoon of kosher salt.
3
In a large bowl, beat together the eggs. Add the parmigiano reggiano cheese, lemon zest, uncrisped guanciale, meyer lemon olive oil, red chile flakes , lemon juice, black pepper and parsley.
4
Add the pasta to the boiling water. Cook until al dente.
5
Strain the pasta out of the water, then add it to the bowl with the egg & cheese mixture. Add 1 tbsp of the pasta cooking water, then stir to combine.
6
Taste and add additional salt and pepper if necessary.
7
Plate the pasta, then top it with parmesan cheese and the crisped guanciale bits.