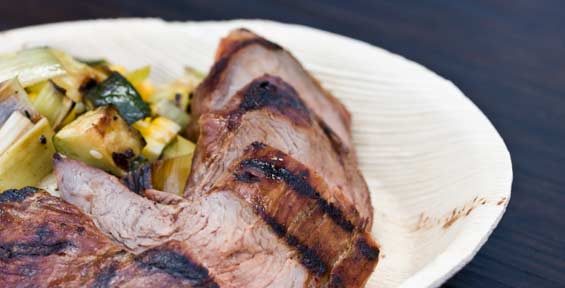 Grilled Wild Boar Tenderloin with Grilled Veggie Salad
This recipe is quick (once you've soaked the corn), easy, incredibly simple, and a real winner. Since the goal of this preparation is to let the natural flavors of the vegetables and wild boar meat speak for themselves, the only other things you need are oil, salt, and a grill!
Serves 4-6
Ingredients:
2-3 Wild Boar Tenderloins depending on size (5-6oz per person)
2 Leeks
2 Ears of Corn
2 Zucchini
Canola or other high smoke point oil
Salt to taste
Directions:
1. Soak the ears of corn in water for an hour. It will be grilled in the husks, so loading the leaves up with water now will steam the corn once on the grill.

2. Cut the green tops off of the leeks (leave the root end on so the leaves will stay connected), cut them lengthwise, and fan out the leaves under running water to wash out any dirt in the cracks.
3. Quarter/halve your zucchini into manageable pieces and take the ends off.

4. Trim any remaining silverskin or excess fat from the wild boar tenderloins. Dry off all surface moisture.

5. Rub the tenderloins with oil & salt.
6. Grill everything on a hot, well oiled grill. Cook the wild boar to your desired level of doneness (about 15 minutes), flipping once. The leeks will also take about 15 minutes to develop nice grill marks … that's when you know it is done. The corn takes about 10 minutes (5 minutes per side). And, the zucchini takes about 5 minutes total. If you are short on grill space … grill the corn ahead and set aside while you grill the rest … it should keep pretty hot.
7. Let the tenderloins rest for five minutes off of the grill before carving. Cut the leeks and zucchini to bite sized pieces, take the husks off of the corn and cut the kernels off of the cob. Toss all vegetables together, adding a little salt to taste.
8. Slice the wild boar and serve several pieces with the vegetable salad, perhaps on a biodegradable palm leaf plate, as we have in the photo above.
___________
Browse More:
Wild Boar Recipes
Tenderloin Recipes