Grilled Skirt Steak w/ Dungeness Crab Croquettes
Succulent skirt steak paired with crispy on the outside, creamy on the inside crab croquettes and a homemade basil-garlic aioli.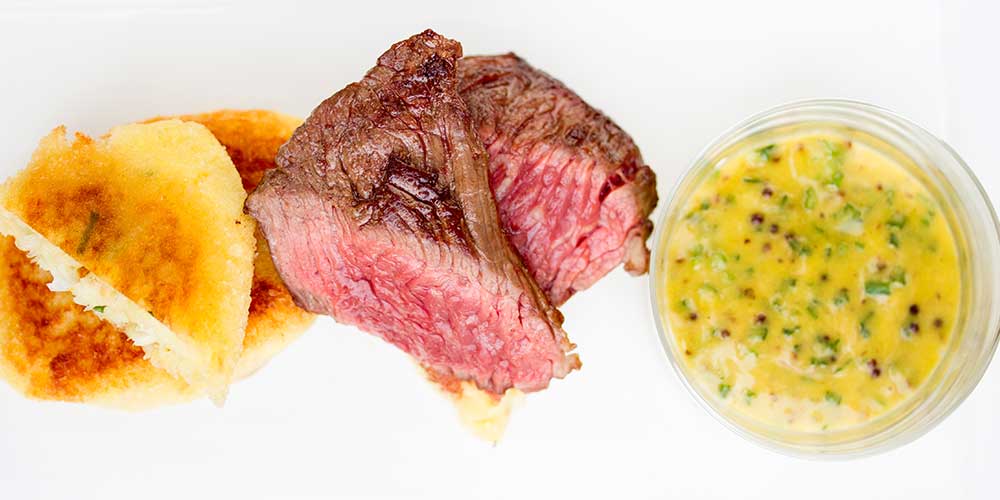 INGREDIENTS
Aioli:

1 Egg Yolk

1 tsp Lemon Juice

¼ minced Garlic

¼ tsp Mustard (we used Purple Mustard)

1 tsp Salt

Approx. ¼ cup Extra Virgin Olive Oil
DIRECTIONS
1
Clean the outer membrane from the skirt steak.
2
Cut the skirt steak into 3oz portions. Season them with salt & pepper, then pan sear to your desired doneness (we recommend cooking no further than Medium).
3a
Whisk the egg yolk in a bowl with the salt. Add the lemon juice, mustard and minced garlic.
3b
Whisk vigorously while drizzling in the extra virgin olive oil until a smooth emulsion forms (it should look like store-bought mayo, but thinner and more yellow).
4
Slice the skirt steak against the grain.
5
Serve the skirt steak with the aioli and the croquettes (or your choice of sides).