LLAMA RIBEYES WITH ROASTED YAMS & BACON SAUTEED BRUSSEL SPROUTS
WINE PAIRING
Old Vine Zinfandel
Llama meat is a leaner, healthier alternative to beef. Its complex flavor is difficult to describe but lies somewhere between beef and lamb. Llama ribeye steaks are similar enough to beef steaks that we recommend cooking them using the methods in our Three Techniques for Cooking Steaks blog post. Just remember that they tend to be leaner than beef and thus can cook more quickly than you expect.
We like to serve llama ribeyes with roasted yams and brussels sprouts sautéed with bacon.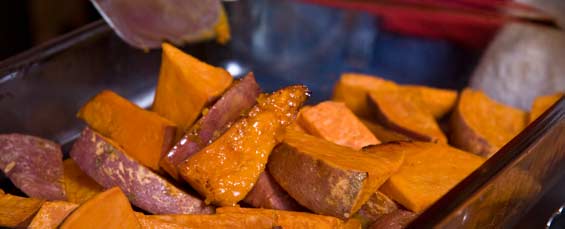 ROASTED YAMS
INGREDIENTS
2 lbs yams


Fresh rosemary sprigs

Olive oil

Salt & pepper to taste
1
Preheat oven to 375 degrees.
2
Cut the yams into pieces roughly equal in size.
3
Toss yams with salt, pepper, and 2 tablespoons if oil. Arrange in a single layer in a baking dish. Scatter a few sprigs of fresh rosemary over the yams and roast until tender approximately 40 minutes. Turn the pieces halfway through.
4
Serve garnished with more rosemary sprigs.
BACON-SAUTEED BRUSSELS SPROUTS
1
Trim the brussels sprouts by removing a few of the outer leaves and a small amount of the woody stem from each sprout. Cut larger ones in half, to match the size of smaller sprouts.
2
Slice the bacon into batonnets (small sticks) and render out the fat in a large pan over medium heat. Remove the bacon bits from the pan once they are crispy and reserve for a garnish.
3
Add butter and a pinch of salt to the bacon fat remaining in the pan. Sauté the sprouts, turning them so they brown and caramelize evenly on all sides. When they are tender enough that the tip of a paring can easily pierce them, remove them from the heat, sprinkle with reserved bacon bits and serve.