Honey-Bourbon NY Strip Steaks
Makes 4 Servings
DRINK PAIRING
Bourbon (Maker's Mark)
Bourbon, honey & Worcestershire marinated grass-fed steaks cooked on the stove-top and finished with a pan sauce that reinforces the marinade's flavors. They have a delicious whiskey savory-sweet flavor.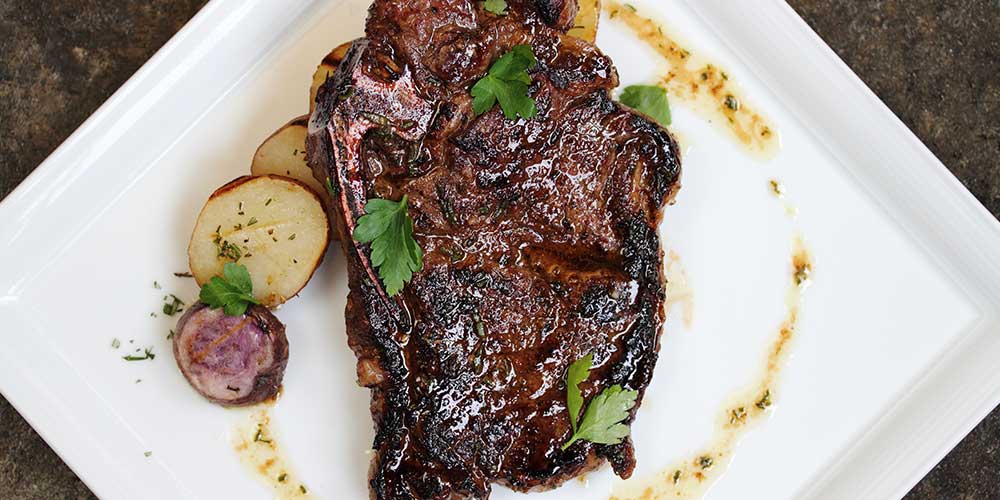 INGREDIENTS
2 Grass-fed NY Strip Steaks – bone out or in
(could substitute other steaks)

2 + 2 tbsp Honey (we used Acacia)

2 tsp Worcestershire Sauce

1 cup + 3 tbsp Bourbon Whiskey (we used Maker's Mark)

1/2 cup Olive Oil

1 tbsp Fresh Thyme, chopped

2 tsp Kosher Salt, plus additional to taste

5 Fresh Sage Leaves, minced

1/2 tsp Black Pepper

1 tbsp Grapeseed Oil

3 tbsp Unsalted Butter

Fresh Italian Parsley for garnish
DIRECTIONS
2
In a baking dish, combine a cup of the whiskey, olive oil, 2 tsp of salt, black pepper, Worcestershire sauce, chopped thyme and 2 tbsp of the honey. Add the steaks, flipping them over to ensure they're well coated.
3
Marinate at room temperature for 1 hour.
4
Remove the steaks from the marinade and pat off the excess.
5
Heat a seasoned cast iron skillet over medium heat with the grape seed oil.
6
Dry the steaks as much as possible & season with salt.
7
When the oil is hot enough to make the steaks sizzle, add them and
sear
the first side, then flip.
8
Add 2 tbsp of the butter and, if desired, a little extra bourbon. Baste the steaks with the melted butter, continuing to cook to your desired level of doneness.
9
Move the steaks out of the pan and add additional salt to taste. Loosely cover them with foil & let them rest for 5-10 minutes.
10
Move the steaks to your serving plates. Pour the juices that collected on the resting plate into a saucepan with the remaining three tablespoons of whiskey. Bring to a simmer and reduce until the sauce coats the back of a spoon. Remove from the heat & finish with the last tablespoon of butter, the remaining two tablespoons of acacia honey & the sage leaves. Taste & add salt as needed.
11
Drizzle the pan sauce over the steak & garnish with parsley leaves. Serve with rosemary skewered potatoes or sides of your choice.