Grass-fed Beef Tenderloin Salad with Charred Tomatoes, Avocado & Bibb Lettuce
Makes 6-8 Servings
WINE PAIRING
White Burgundy
Whether you're looking for a lighter beef meal for a warm day or something you can bring on a picnic, this dish is sure to satisfy.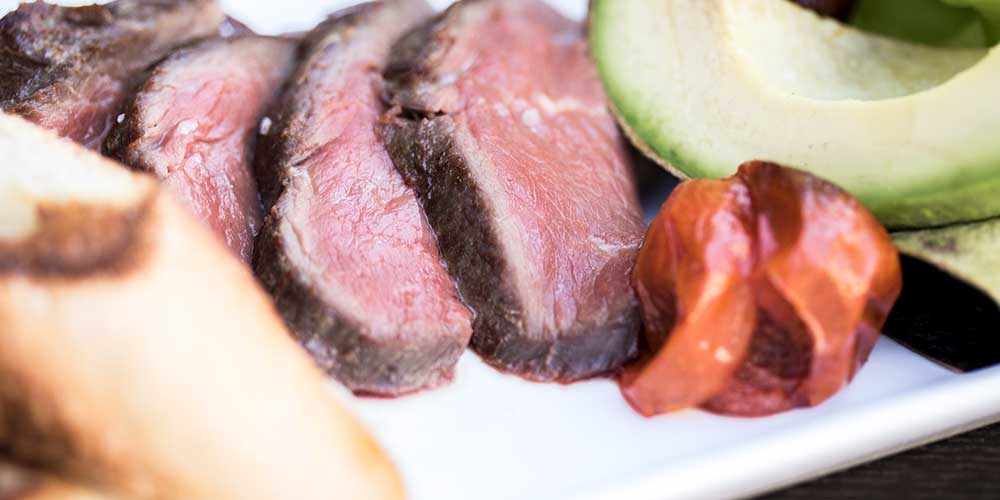 INGREDIENTS
Dressing:

1 tbsp Dijon Mustard

1 tbsp Sour Cream

1 tbsp Champagne Vinegar

¼ cup Extra Virgin Olive Oil

¼ tsp Salt

1/2 tsp Honey

1 tbsp Finely Chopped Chervil & Dill
DIRECTIONS
1
Preheat your sous vide water bath to 122°F.
2
Optional: Tie the tenderloin with butcher's twine to compact the meat into a more uniform shape.
3
Rub the tenderloin with the umami powder on all sides.
4
Vacuum pack the tenderloin.
5
Place the tenderloin bag in the sous vide bath and cook for 3 hours.
6
Preheat your oven to 450°F.
7
Remove the tenderloin bag from the water bath and the tenderloin from the bag (reserve the liquid in the bag), and pat the tenderloin dry.
8
Put the cherry tomatoes in an oiled cast iron skillet along with the juices from the sous vide bag. Move them to the oven & roast them for 15 minutes.
9
Dry off the tenderloin and sear it on all sides in a hot oiled cast iron skillet, just until a crust forms.
10
Let the tenderloin rest briefly. Cut off the twine (if you tied it), then cut the meat in half lengthwise, and thinly slice it.
11
Pit, peel & slice the avocado. Tear off the bibb lettuce leaves.
12
Whisk together all the dressing ingredients until a smooth dressing forms.
13
Serve the bibb lettuce, charred tomatoes, avocado and beef with the dressing and toasted bread on the side.