Grass-fed Strip Steaks w/ Caramel Sauce
Makes 4 Servings
WINE PAIRING
California Cabernet or Malbec Wine
This simple sauce is sweet, tangy and nutty. Here we've served it with pan roasted grass-fed NY strip steaks, but it'd probably also be delicious on duck or kurobuta pork too!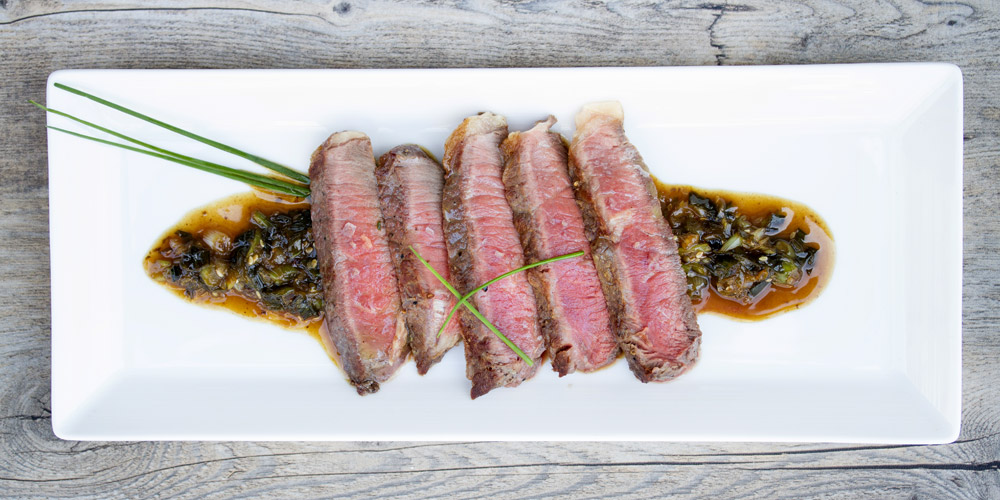 INGREDIENTS
2 Grass-Fed Beef NY Strip Steaks (or other steaks of your choice)

1 cup Scallions, thinly sliced on the bias

¼ cup Sake

¼ cup Strong/Dry Ginger Beer (we used Rachel's Ginger Beer)

1 tbsp High Heat Oil (safflower, grapeseed, etc)

2 heaping tablespoons Sesame Caramel Sauce

Salt
Garnish: Chopped Chives or Scallions
DIRECTIONS
1
Preheat your oven to 375 degrees.
2
Season the steaks on both sides with salt.
3
Add the high heat oil to a cast iron skillet or large oven-safe frying pan and get it quite hot over high heat.
4
Sear the steaks on both sides to develop a nice crust. Then move the pan to the oven and roast them to medium rare (an internal temperature of 128 degrees) or your desired level of doneness.
5
Move the steaks to a plate to rest, loosely covered with foil.
6
Return the skillet/frying pan to the stove & add the scallions. Sauté them over medium-high heat until they've softened and started to brown.
7
Pour the collected juices from the steak resting pan over the scallions.
8
Deglaze the pan with the sake & ginger beer. Bring the liquid to a simmer and continue to cook until it has reduced by half.
9
Turn off the heat and stir in the caramel sauce.
10
Slice the steaks & serve them with the sesame caramel sauce, garnished with the scallions or chives.