Boneless Grass-Fed Beef Short Rib Sandwich
Super tender braised short ribs balanced with a mustard cream and bright quick-pickled red onions.
We used this recipe to make the braised short ribs used in this sandwich, but you could also use this recipe (with boneless ribs) or substitute your favorite.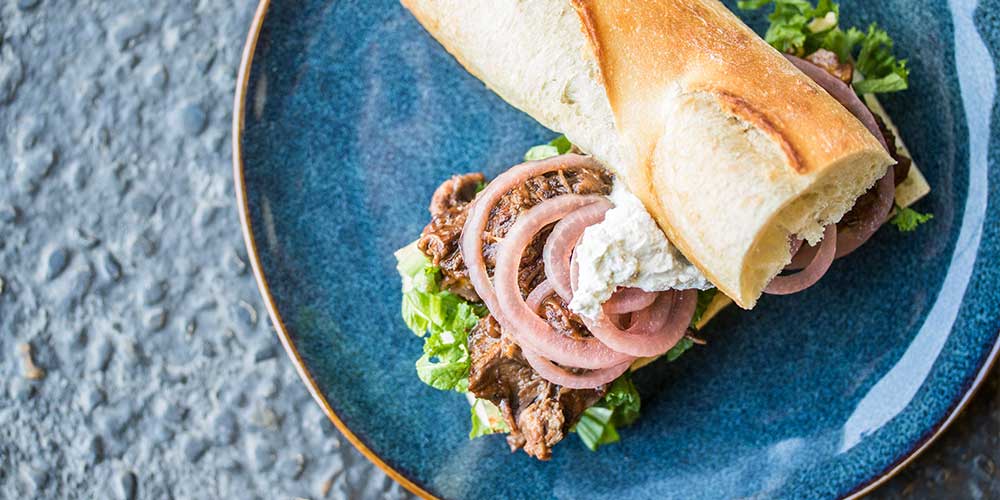 INGREDIENTS
Pickled Red Onions:

1 cup Red Wine Vinegar

½ cup Apple Cider Vinegar

1 cup Water

1 tsp Salt

2 tsp Sugar

1 tsp Black Peppercorns

1 tsp Coriander Seeds

1 Bay Leaf

1 Garlic Clove, cut in half

1 sprig Fresh Thyme

2 small Red Onions
Mustard Cream:

1/2 cup Heavy Cream

2 tsp Whole Grain Mustard

1 tsp Dijon Mustard

1/4 teaspoon Salt

Zest of one half Lemon

1/2 tsp Lemon Juice
DIRECTIONS
Making the pickled red onion can be done 2 days to 1 hour ahead of time.
1
To make the pickling liquid, mix the vinegars and water in a small saucepan. Tie all the aromatics, from peppercorns down through fresh thyme, in a cheesecloth bundle, and drop into the vinegar mix. Over medium-high heat, bring all this to a boil.
2
While the pickling liquid heats, slice the red onions into thin rings using careful knife work or a
mandoline
. Place into a container that can withstand boiling liquid.
3
When the pickling liquid comes to a boil, pour it over the sliced red onions. Set aside to cool, and then keep covered in the refrigerator at least one hour, and up to a week.
This can also be made ahead of time, if desired.
4
Whisk the cream to a firm whip. Fold in the other ingredients, from the mustards down through the lemon juice, and stir well to incorporate them. Taste and adjust the lemon and salt to your liking. This will keep covered in the fridge for up to 3 days.
5
Slowly warm the short rib, in a covered saucepan over low heat, or in a baking dish covered with foil in a 250°F oven.
6
Chiffonade the mustard greens.
7
Split the baguette in half and toast, if desired.
8
To assemble the sandwiches, spread a generous serving of short rib on a split-open length of baguette. Top with generous pinches of mustard greens, a later of pickled red onions, and dollops of the mustard cream. Chow down.