Grass-Fed Pot Roast w/ Horseradish Cream
Makes 8-10 Servings
WINE PAIRING
California Napa Cabernet Sauvignon
This classic pot roasted brisket recipe leverages the full, bold flavor of grass-fed beef, then cuts its richness with a fresh horseradish cream. Comfort food at its very best!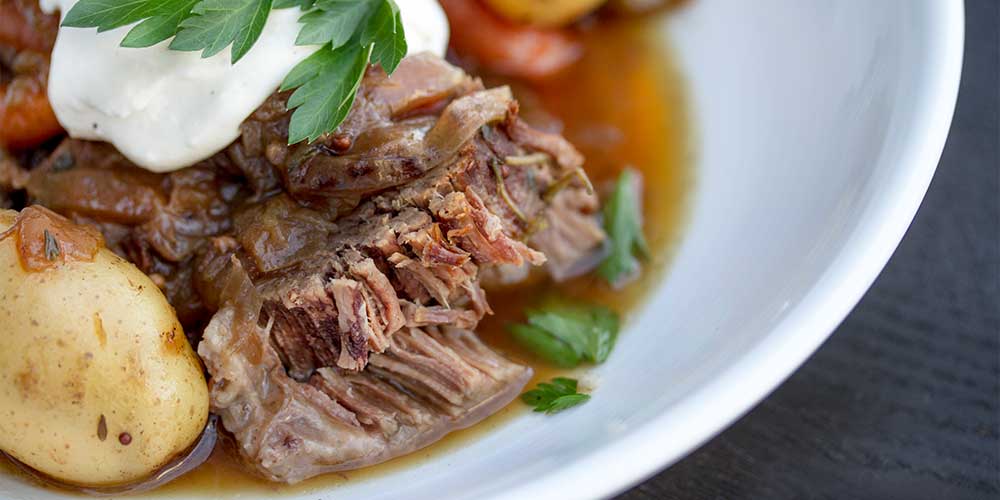 INGREDIENTS
Horseradish Cream:

½ cup Heavy Cream, whipped to soft peaks

½ cup Mayonnaise

2 tbsp Finely Grated Horseradish Root

Ground Black Pepper

1 tsp Lemon Juice

1 pinch Salt
DIRECTIONS
1
Preheat your oven to 275 degrees.
2
Generously salt & pepper the brisket.
3
Coat the bottom of a large, oven-safe pot with high heat oil. Get it very hot on the stove, then
sear
the brisket on all sides to develop a nice brown crust (you may have to cut the brisket to make it fit).
4
Remove the brisket pieces from the pan and saute the onions and carrot in the remaining fat until the onions start to soften and brown.
5
Brush the fat-cap side of the brisket with the whole grain mustard.
6
Deglaze the bottom of the pot with the wine. Add the thyme and bay leaves.
7
Return the brisket to the pot. Bring the liquid to a boil, then cover the pot. Move the pot to the oven and slow-braise.
8
After cooking for about two hours (when the meat has just started to be tender enough to pull apart). Add the onions, celery and potatoes. Return the pot to the oven and continue to braise until the meat is fork tender.
9
Gently fold together the horseradish cream ingredients.
10
Remove the pot roast from the oven. Serve it with the horseradish cream, chopped parsley and your choice of any additional sides (we recommend buttered noodles)