Grass-Fed Burgers w/ Meyer Lemon & Shiso
Makes 4 Servings
WINE PAIRING
Cabernet Franc
Alighter, brighter, summery burger recipe featuring crispy tempura-fried meyer lemon wheels, a citrusy, herby shiso mayonnaise, and spicy peppadew peppers.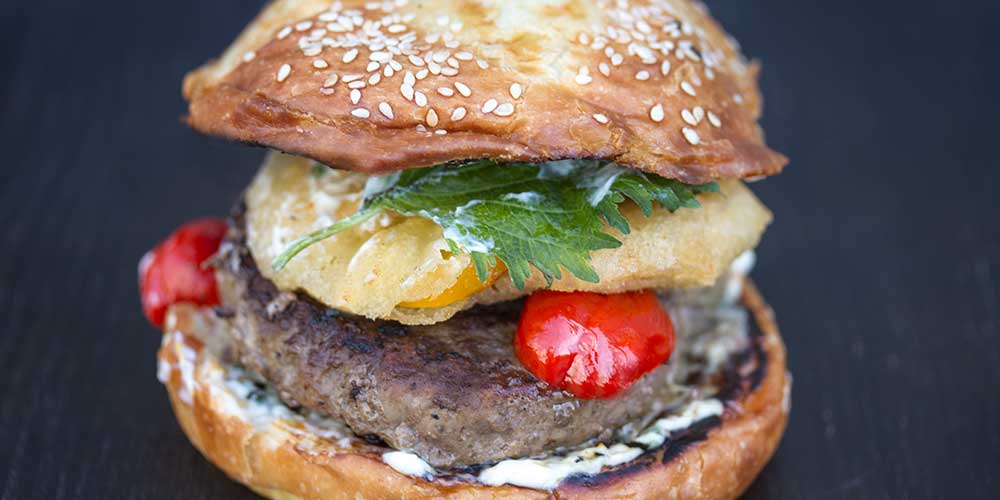 INGREDIENTS
4 Burger Buns (we used Brioche Buns)

4 Spicy Peppadews, drained & halved

2 cups Neutral-Flavored High Heat Oil (canola, grapeseed, etc)
Tempura Batter:

*1 cup All Purpose Flour

½ cup Rice Flour

1 tsp Baking Powder

½ tsp Fine Sea Salt

1/8 tsp Cayenne Pepper

1 Large Egg Yolk

1 Large Egg

1 ½ cup Ice Cold Water
Lemon Shiso Mayo:

½ cup Mayonnaise

4 Green Shiso Leaves, finely chopped

1 tsp Meyer Lemon Zest

Plenty of Freshly Ground Black Pepper
DIRECTIONS
1
Whisk together all the tempura batter ingredients in a bowl – don't whisk until completely smooth, leave some lumps.
2
Cut the meyer lemons into 8 very thin slices. Remove any seeds from the slices.
3
Heat the oil in a high-sided pot to 350 degrees.
4
Ready a paper towel to drain the meyer lemon slices after they're fried.
5
Dip the meyer lemon slices in the batter (quick dip on both sides), then fry them in the oil (up to four at a time).  Fry until the batter puffs up, firms, and turns a light brown color.
6
In a small bowl, combine the shiso mayo ingredients.
7
Optional: Toast the buns.
8
Season the burgers with lots of salt & pepper, then sear them in a hot, oiled frying pan or skillet over high heat until they're browned on one side. Flip them and continue to cook to your desired level of doneness* (use a thermometer to check).
9
Spread herbed mayo on both sides of each bun.
10
Put a burger patty on each bun.  Top each with two slices of fried meyer lemon, one shiso leaf, and two peppadew halves.
* The USDA recommends all ground meats be cooked to an internal temperature of 165.