Grass-Fed Angus Tri Tip with Savory Yuzu Butter & Pea Shoot Salad
Makes 6-8 Servings
WINE PAIRING
Grenache-Based Blend from the Southern Rhone
Roast beefy tri tip served with a rich, tangy yuzu butter and a crisp, bright pea shoot salad. Yum!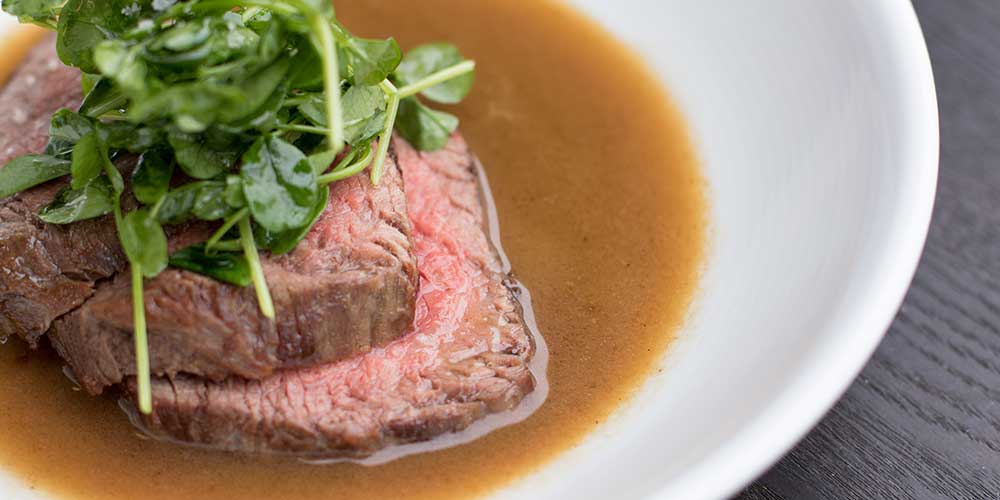 INGREDIENTS
1 Grass-Fed Angus Tri-Tip (approx. 2 1/2lbs)

3 tbsp Yuzu Juice

2 tbsp Tamari Soy Sauce

1 tsp Green Yuzu Kosho

4 tbsp Unsalted Butter

1 scant tablespoon Sugar

Salt to Taste
Pea Shoot Salad:

Pea Shoots

Yuzu Juice

Olive Oil
DIRECTIONS
1
Preheat your oven to 350°F.
2
Put the sugar, yuzu juice, tamari & kosho in a small sauce pan. Heat gently, just until the sugar melts.
3
Swirl in the butter, 1 tablespoon at a time until melted & combined. Add salt to taste.
4
Cut the tri-tip in half to make it more manageable. Trim off any large fat deposits and visible silverskin (
how to remove silverskin
).  Season it generously with salt.
5
Sear the tri tip pieces on all sides, until they develop a browned crust, in a hot, oiled, oven-safe frying pan or skillet.
6
Move the tri tip to the oven and roast it to an internal temperature of 120°F (for rare/medium rare).
7
Take the tri tip from the oven and move it to a plate to rest, loosely tented with foil.
8
Pour the juices from the roasting pan (plus any juices that accumulate on the resting plate) into the butter.
9
Toss the pea shoots with yuzu juice and olive oil to taste.
10
Slice the tri tip and plate it sprinkled with salt, surrounded with the yuzu butter, and topped with the pea shoot salad.