Grass-Fed Beef Cowboy Steaks with Porter Chocolate Sauce
Cowboy steaks are bone-in ribeyes – a dramatic cut with bold flavor. While they're delicious with just salt and pepper, you can also pair them with a similarly bold sauce – like this one, made with porter beer, bittersweet chocolate, and onions.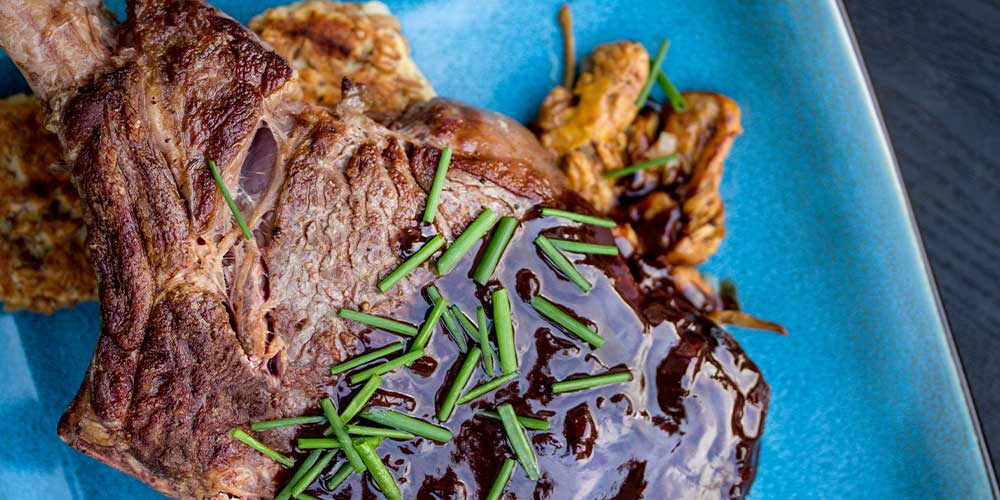 INGREDIENTS
2 tbsp Unsalted Butter (in two pieces)

High Heat Oil (Peanut, Safflower, Grapeseed, etc)

Salt & Pepper
Sauce:

2 tbsp chopped Onions

12oz Porter Beer

½ cup Vegetable Stock

2 tbsp Unsalted Butter

2 tbsp 70% Bittersweet Chocolate
Fresh Chanterelles (could substitute Hedgehog Mushrooms)

DIRECTIONS
1
Season the cowboy steaks with salt & pepper. Preheat your oven to 350 degrees.
2
Get an oiled frying pan or cast iron skillet (use the peanut, safflower or grapeseed oil) hot over high heat.
3
Add the steaks & sear them until they develop a brown crust on the bottom.
4
Flip the steaks and top each one with a tablespoon of butter. Continue to sear them until they develop a brown crust on the other side.
5
Move the pan to the oven and roast the steaks until they reach an internal temperature of 110 degrees (for rare, longer if you prefer).
6
Remove the steaks from the pan to a clean plate, and loosely cover them with foil. Let them rest while you construct the sauce.
7
Add the porter beer, vegetable stock and onions to the steak pan, scraping the bottom to incorporate the browned bits. Bring the liquid to a simmer.
8
Continue to simmer until the liquid has thickened enough to coat the back of a spoon. Stir in the butter until it combines with the rest of the sauce.
9
Stir the chocolate into the sauce until it melts.
10
In a separate pan, saute the chanterelles over high heat until they start to caramelize. Add salt to taste.
11
Serve the steaks with the chanterelles & your starch of choice, sauced with the chocolate & porter sauce.