Rump Heart Carpaccio Stacks with Dilled Mustard Emulsion, Quail Eggs, and Goat Cheese Crumbs
The rump heart of New Zealand grass-fed beef, also called top sirloin, is a very fine quality cut and is excellent to use for a carpaccio. These stacks feature two thin slices of rump heart carpaccio with a refreshing and flavorful spicy dilled mustard emulsion, luxurious quail eggs with truffle salt, and crunchy goat cheese crumbs topping. It is a delightful start to any meal.span>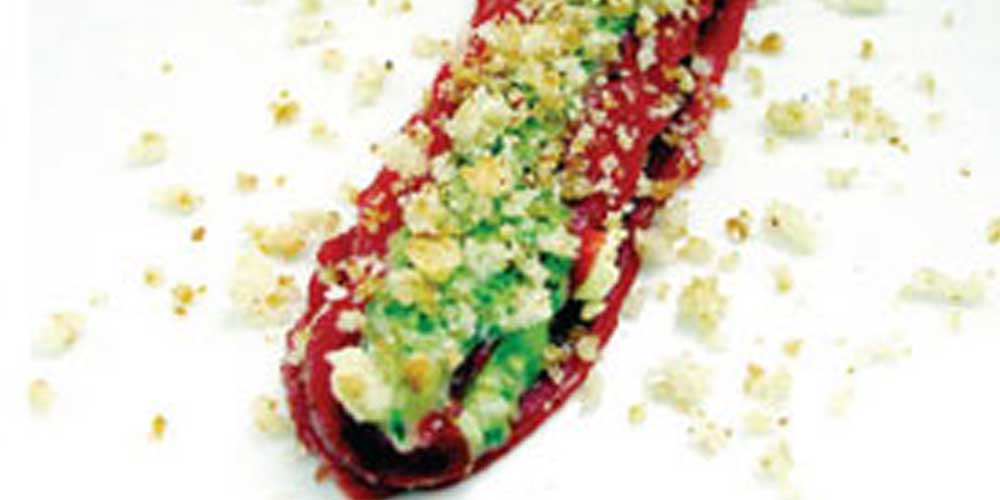 INGREDIENTS
DILLED MUSTARD EMULSION:
1/3 cup fresh dill, chopped

2 tablespoons sugar

1/3 cup Dijon mustard

2 tablespoons Champagne vinegar

1 teaspoon lime juice

1/4 cup extra virgin olive oil

Salt, pepper to taste
1 10-ounce top sirloin roast, trimmed of all fat
Truffle salt to taste

1 tablespoon butter

1/2 cup panko breadcrumbs

1/4 cup goat cheese, finely crumbled
DIRECTIONS
1
In a food processor, place dill, sugar, Dijon mustard, Champagne vinegar, and lime juice. Mix to combine, then while the processor is running, pour in the extra virgin olive oil slowly in a very thin stream. Season with salt and pepper and refrigerate for at least an hour. Sear the rump heart roast quickly on all sides on high heat in a skillet with just a little bit of oil.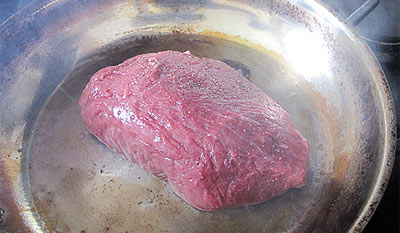 2
Remove from a skillet and freeze for at least an hour or more, until partially frozen. Slice paper-thin, arrange on a plate, cover tightly with plastic and refrigerate until ready to assemble.
3
Bring water to boil in a small pot, gently add the quail eggs, lower the heat, and simmer for about 4 minutes. Take the quail eggs out and place them into ice water. Cool completely, peel, and chop very finely. Toss with a little bit of truffle salt to taste.
4
Melt butter in a skillet, add Panko breadcrumbs and toast them, stirring frequently, until the breadcrumbs are just starting to turn golden. Add goat cheese and stir really well to combine with breadcrumbs, cooking the mixture for about 30 seconds. Transfer to a bowl, and mix with a fork to break up the larger goat cheese pieces. Cool to room temperature.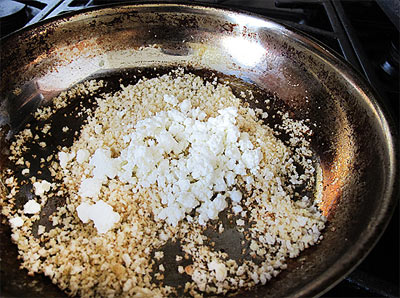 5
To assemble, drizzle a little bit of dilled mustard emulsion on the plate, place one slice of carpaccio in the center. Cover with dilled mustard emulsion and chopped quail egg. Top with another slice of carpaccio and another layer of dilled mustard emulsion. Finally sprinkle generously with goat cheese crumbs.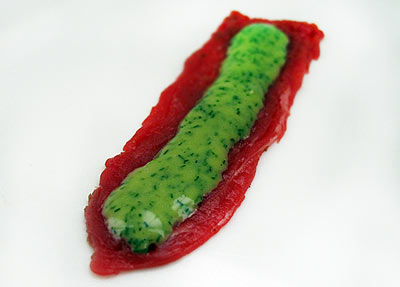 Recipe Development & Photography by Natasha Price, 5 Star Foodie