Grass-fed Burgers with Cornichon Sauce, Artisan Cheddar & Caramelized Onions
Classic burger flavors elevated through superior ingredients. Everything you love in a thin-patty burger…better.
If you want to grind your own burgers, we recommend a 50/50 mixture of chuck and
boneless short rib.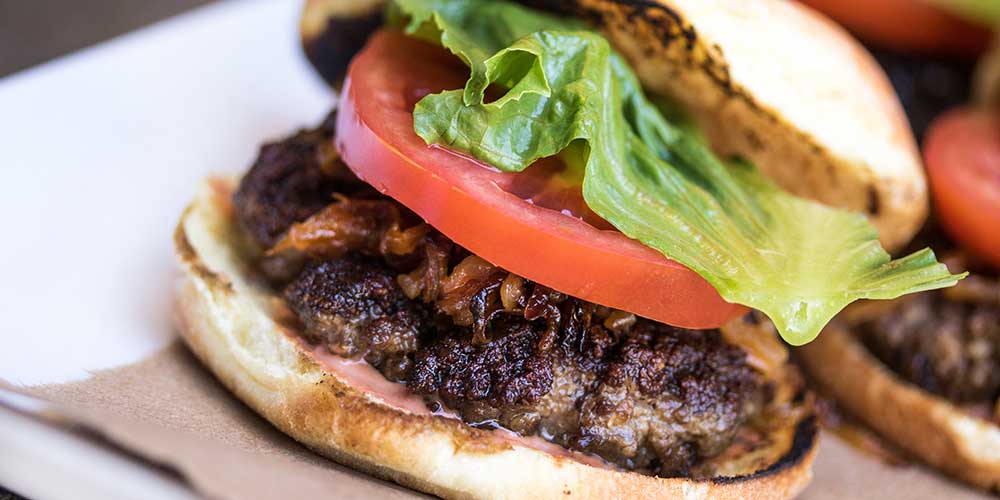 INGREDIENTS
8-10 slices of Beefsteak Tomato

8-10 large leaves of Romaine Lettuce

8-10 slices of Artisan Cheddar (we used Beecher's)

8-10 Potato Buns

Salt
Cornichon Sauce:

¼ cup finely chopped Cornichons

¼ cup Best Foods Mayo

1 tsp Dijon Mustard

Pinch of Salt

1 grind of Pepper

Squeeze of Lemon Juice
Caramelized Onion:

1 Whole Onion, cut into thin strips (julienned)

1 tbsp Olive Oil

1 tbsp Unsalted Butter
DIRECTIONS
2
Optional (if grinding your own beef): Par-freeze the beef to firm it up. Put your grinder in the freezer as well to get it as cold as possible.
Grind together the short rib and chuck with a large die. Grind once or twice, depending on the texture you prefer.
3
Mix together all the cornichon sauce ingredients.
4
Form the ground beef into 8-10 very thin patties. Season them liberally on both sides with salt.
5
Sear the burgers on both sides, using an offset spatula when you flip them to ensure you end up with as much crust as possible. After the flip, top each one with top each one cheddar cheese.
6
Remove the cooked patties from the pan. Spread each bun with the cornichon sauce, then top it with a burger patty.
7
Top each burger patty with a slice of tomato and some romaine lettuce. Serve.