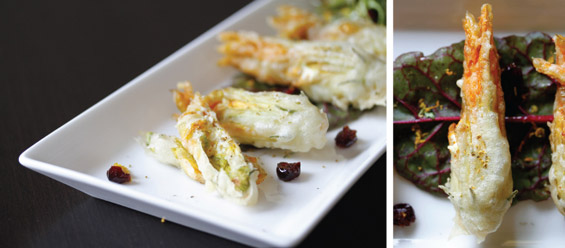 Goat Cheese, Pine Nut, Orange & Fennel Squash Blossoms
These crispy squash blossoms, filled with a creamy cheese filling spiked with fresh orange zest and pine nuts, really shine when finished with a light dusting of fennel pollen.
This version of the filling has a strong orange & nutty flavor with a very light goat cheese tang. If you want to increase the goat cheese flavor just substitute more chevre for some of the ricotta. The nut and zest amounts can also be varied to suit your taste.
You'll have extra tempura batter left over, but it won't keep very long. Try dipping and frying all sorts of fresh veggies for an exciting cornucopia of accompaniments.
Ingredients: (Enough for about 14 squash blossoms)
About 14 Fresh Squash Blossoms
½ cup Ricotta Cheese
6 tbsp Fresh Goat's Cheese (aka Chevre)
1 tsp Orange Zest, freshly grated & finely chopped
4 tsp Pine Nuts
1 Egg Yolk
1 cup Rice Flour
¾ cup or more Sparkling Water
2 heavy pinches of salt
Fennel Pollen for garnish
about 1 gallon of Canola Oil for frying (could substitute Peanut Oil)
Directions:

1. Mix together all the filling ingredients in a bowl with a spatula, making sure to get the mixture nice and smooth. Load the filling into a piping bag or zip top bag (you'll clip a corner to use it as a piping bag). The filling can be made ahead and stored in your refrigerator.
2. Heat the canola oil in a fryer or heavy Dutch oven to 375°F.
3. Use the piping bag to fill each squash blossom. (How to Stuff Squash Blossoms)
4. Make the Tempura Batter: Just before you're planning to serve the blossoms, combine the egg yolk, rice flour, salt, and sparkling water in a bowl. Depending on your rice flour, you may need to add more water to thin or more flour to thicken in order to get the right consistency (you want a thin batter that clings to food in an opaque layer).
5. Dip each blossom in the tempura batter and immediately transfer to the hot oil. Don't fry more than five or six at a time, you don't want to crowd the oil.
6. Turn each blossom as necessary to cook them on all sides. This tempura recipe crisps but doesn't brown much, so use its texture as a cue to doneness rather than its color.
7. Remove the cooked blossoms from the oil, and drain them on paper towels. Let the oil reheat to 375, then cook another batch or vegetables you've dipped in the batter.
8. Serve each blossom sprinkled with a pinch of fennel pollen.

___________
Browse More:
Squash Blossom Recipes
Edible Flower Recipes
Fennel Pollen Recipes
Cheese Recipes
Citrus Fruit Recipes