Goat Cheese, Mint & Roasted Fig Crostini
Makes Approx. 30 Crostini (6 Servings)
WINE PAIRING
Sparkling Wine
These crostini are elegant yet easy – a great choice for entertaining. Bite into one and you'll experience warm, soft, musky sweet figs, creamy goat cheese, and fresh clean mint. The mint crystals and flake salt give the topping a nice delicate crunch.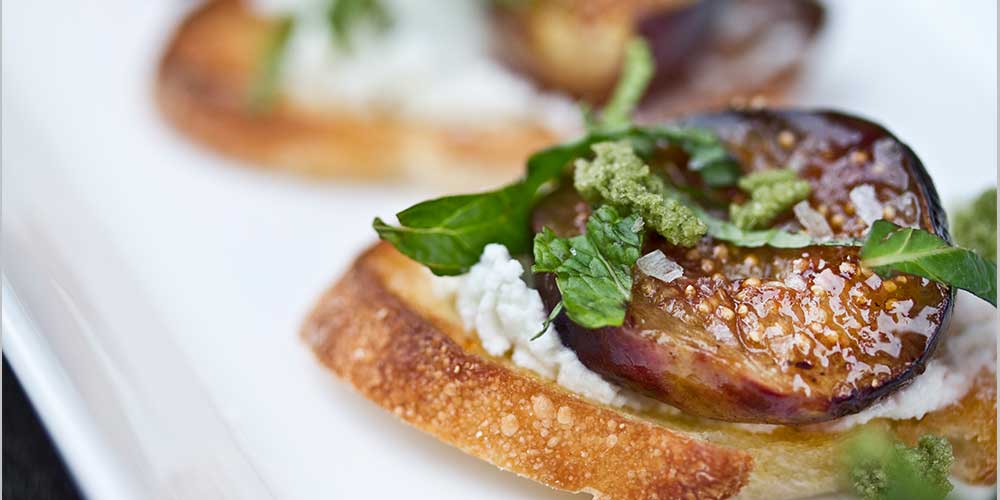 INGREDIENTS
4oz Goat Cheese (Chevre)

1 Whole Baguette, sliced ¼" thick

1 ½ – 2 pints Fresh Black Figs (Mission or Turkish)

1 small bunch Fresh Mint

1 tsp Balsamic Vinegar

2 tbsp Extra Virgin Olive Oil plus extra for drizzling on bread

1 pinch Kosher Salt

Couple Grinds Black Pepper

Mint Herb Crystals

Flake Sea Salt
Optional: 1 tbsp Whole Milk
DIRECTIONS
1
Remove the goat cheese from your refrigerator and let it come to room temperature (to soften). Put it in a small bowl and mix/mash it with a spoon to soften – mash in the milk if you're using it.
2
Cut the stems off the figs & cut them in half.
3
Pull the mint leaves off the stems and cut them into thin ribbons.
5
Toss the figs with the extra virgin olive oil, kosher salt, black pepper & balsamic vinegar.
6
Spread the fig pieces out on a baking pan and
broil
them until they've puffed in the middle and have become brown and bubbly (about 3-10 minutes, depending on your oven).
7
Brush one side of the bread with olive oil, lay it out on a baking pan and broil until browned at the edges.
8
Spread approximately 1 tsp of the goat cheese onto each baguette slice.
9
Top each slice with one of the fig halves, then top each fig piece with a few shreds of mint.
10
Just before serving, sprinkle each piece with some mint crystals and flake salt.
Variation:
Instead of tossing the figs with balsamic prior to roasting, simply toss them with olive oil and finish the crostini with a fine aged balsamic, such as
Vigna Oro
.