Makes 6-8 Servings
WINE PAIRING
German Riesling
This party dip/spread looks fancy and complicated. It tastes amazing – in each bite sweet, tart apricot gives way to hot peppers and creamy goat cheese.
The fact that it's quick and incredibly easy can be your little secret.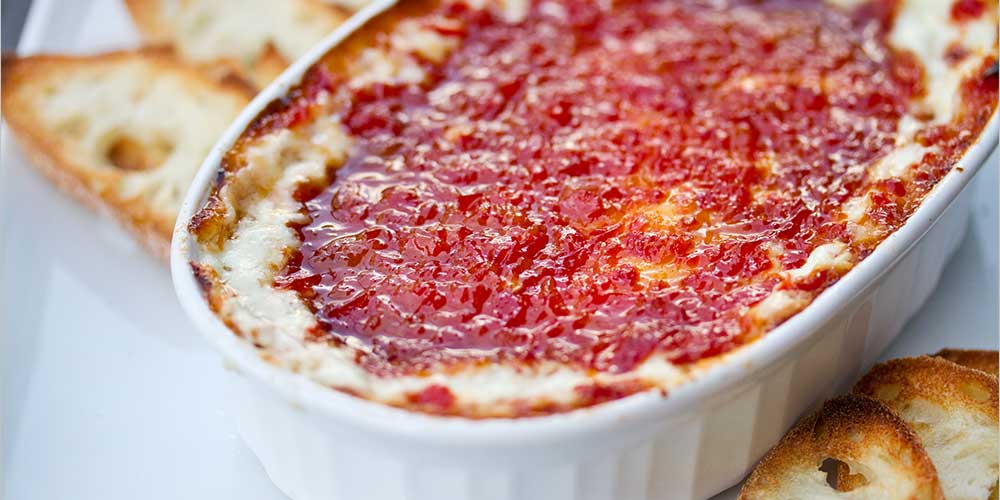 INGREDIENTS
11oz Goat Cheese (Chevre)

2 tbsp Whole Milk

¼ cup chopped Hot Peppedew Peppers

3 tbsp Blenheim Apricot Jam (could substitute other apricot jam)

1 tbsp Dijon Mustard

1 tsp Sherry
DIRECTIONS
1
Preheat your oven to 400 degrees.
2
Let the goat cheese sit on your counter until it reaches room temperature, then put it in a small bowl and stir it with a spoon. Mix in the milk and continue to stir until the mixture reaches a creamy consistency.
3
Fill a gratin dish (or dishes) with the cheese mixture, pressing it down until it fills all the available space.
4
In a separate bowl, stir together the mustard, peppers, sherry and apricot jam.
5
Add salt & pepper to the apricot mixture to taste.
6
Pour the apricot mixture over the goat cheese & spread it evenly over the top with a spatula or spoon.
7
Put the gratin dish on a baking sheet. Bake until warmed through (5 mins or so).
8
Switch your oven to broil. Move the gratin to the top rack and broil it for 3-5 minutes – until bubbly & lightly caramelized.
9
Serve with fine crackers, mini toasts or toasted slices of baguette.