Makes 1 Cocktail (plus extra syrup)
Using vodka in this julep makes the flavor all about the mint and the ginger.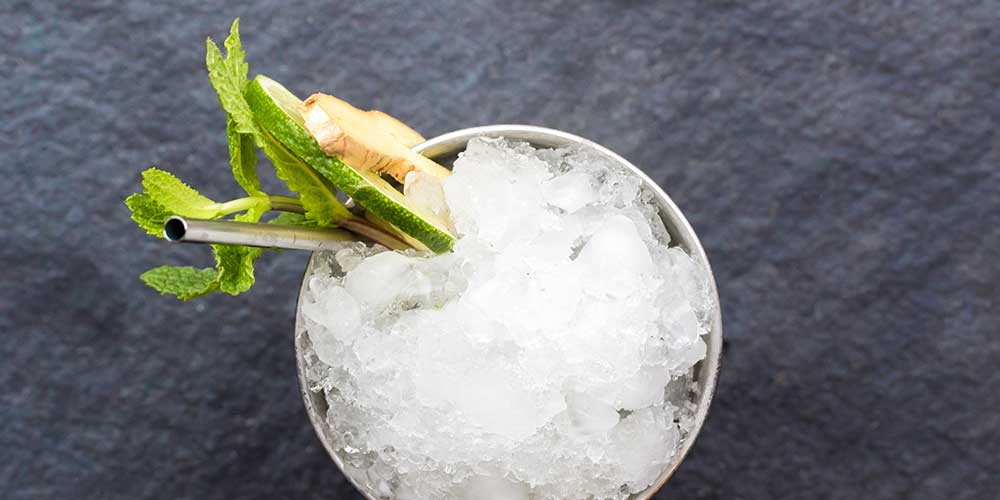 INGREDIENTS
Raw Sugar Simple Syrup Base:

1 cup Raw (Demerara) Sugar

1 cup Water
Ginger Simple Syrup:

1 medium finger of Ginger, peeled & sliced

½ cup Raw Sugar Simple Syrup
Julep:

2 thin slices Peeled Fresh Ginger

1/2oz Ginger Simple Syrup

¼ Lime Juice

2oz Vodka (we used Tito's)
Garnish:

Fresh Mint Sprig & Lime Wheel
DIRECTIONS
1
Up to several weeks before:
Make the ginger syrup: bring the water to a simmer in a small saucepan, then stir in the raw sugar until it dissolves
Pour ½ cup of this syrup (you can save the rest for other drinks or multiply the ginger to make a bigger batch) into a separate pot.  Add the ginger slices & simmer for 5-10 minutes.
Strain the ginger out of the syrup, and let it cool.  Move it to the fridge to chill & store until you need it.
2
Combine the mint leaves, ginger and a quarter ounce of the simple syrup in the bottom of a julep tin. Muddle to bruise the mint & ginger.
3
Add a layer of crushed ice. Pour in the vodka.
4
Add another layer of crushed ice, up to the top of the julep tin. Pour in the remaining quarter ounce of simple syrup.
5
Mound more crushed ice over the top of the tin. Insert a straw or spoon-straw (preferably metal).
6
Garnish with the lime wheel & mint sprig. Serve immediately.