Ginger Huckleberry Sorbet
Pureed huckleberries provide most of the flavor of this sorbet, but we've added ginger to introduce another layer of taste.  If you would prefer just a hint of ginger, cut the number of disks in half.  They can also be eliminated completely if you prefer a pure huckleberry sorbet.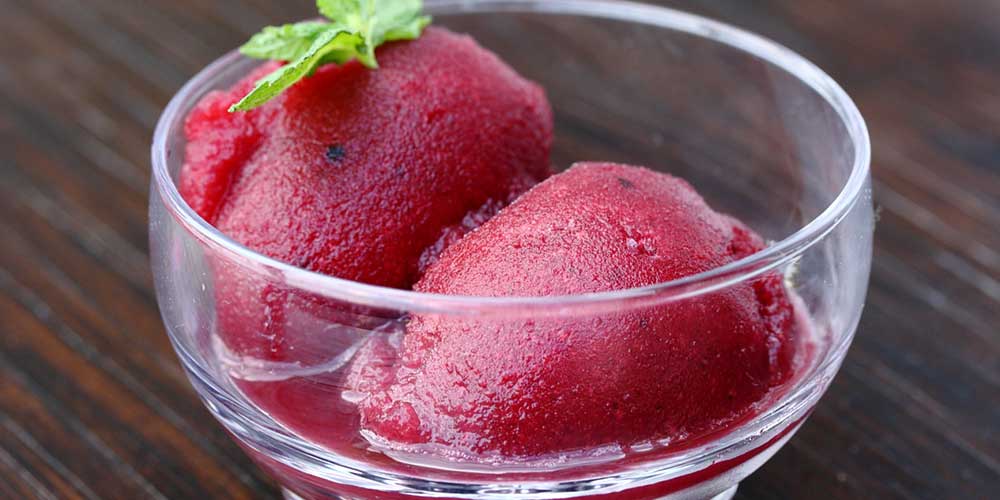 DIRECTIONS
1
Make the ginger
simple syrup
: Combine the sugar with the water, ginger, and corn syrup in a saucepan and heat until the sugar has dissolved (you can cook longer to extract more flavor from the ginger, just take care not to over reduce your syrup).
2
Pour the resulting syrup into a metal bowl that is sitting in an ice bath to rapidly chill it, stirring occasionally (you can also use the fridge).  Remove the ginger disks and discard.
3
Pass the huckleberries through a food mill or pulse in a food processor until a puree is formed.  If using frozen huckleberries, they can be pulsed without thawing, but you will need to add a little water to achieve a puree.  Press the puree through a strainer to extract the seeds and large pieces of pulp, which can be discarded (this step is optional, but highly recommended).  Transfer the strained puree to a tall, thin container like a pitcher and stir in 1/4th cup of your sugar syrup.
4
Carefully lower a baume meter or a large washed raw egg into the pitcher.  Slowly add the rest of syrup to the puree until a section of egg a little larger than a dime floats above the surface (20 or so on the baume meter).  If too much of the egg is floating, slowly add water to bring it back down.  If too little is showing, add more simple syrup.
You will likely end up with leftover syrup, which can be used for sweetening cold drinks or making more sorbets.  We used 2 ½ cups total of the ginger syrup & ½ cup extra water, though your amounts may vary depending on your huckleberries' unique sugar content.
5
Chill the balanced sorbet base thoroughly in your fridge.
6
Pour the sorbet base into a prepped ice cream machine.  Freeze according to the manufacturer's instructions and move (well-covered) to the freezer to harden.
7
Serve simply in a clear bowl with a sprig of mint.