Geoduck w/ Oyster Mushrooms & Butter-Soy Reduction
Makes 2 Servings
WINE PAIRING
Southern Rhone White Blend
Geoducks are like two clams in one. Their crisp, crunchy siphon meat gets a lot of attention for its raw applications in sushi and sashimi, but their body meat is also one of the great seafood delicacies. This simple dish really shows off its creamy texture and delightful flavor.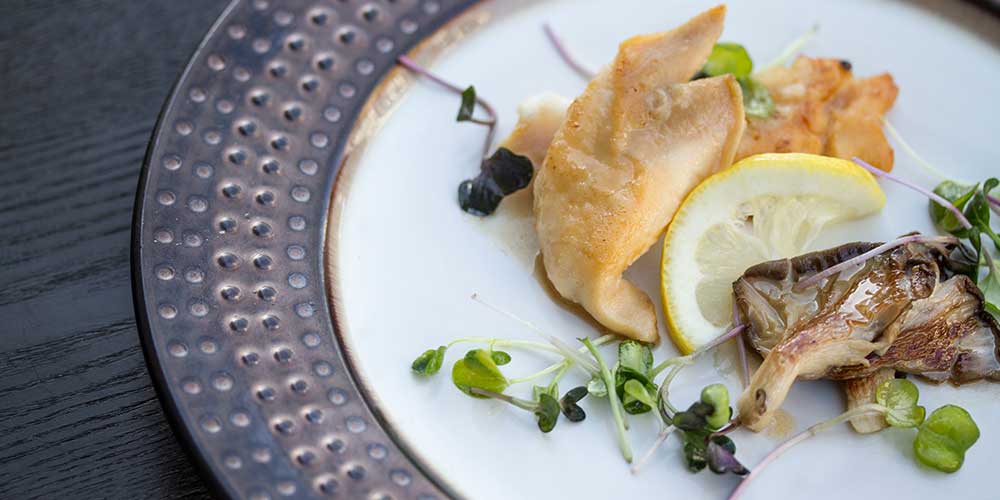 INGREDIENTS
Juice of ½ Lemon, plus extra to finish plates

1 tbsp White Soy Sauce

2 tbsp Unsalted Butter

Pinch of Salt

Radish Microgreens (we used Farmbox Greens Micro Radish Blend)

Extra Virgin Olive Oil
DIRECTIONS
2
Slice the geoduck body meat into ¼" thick medallions on the bias & dip them in the flour to coat.
3
Break the oyster mushrooms apart into bite-sized pieces. Tear off the base portion of the mushrooms and either save for stock or discard.
4
Put the oil in a frying pan or cast iron skillet and get it hot over high heat. Add the oyster mushroom pieces and a pinch of salt.
Saute
over high heat until caramelized.
5
Remove the mushrooms from the pan & add the remaining two tablespoons of oil.
6
Saute the geoduck over medium-high heat until lightly browned, then remove it from the pan to paper towels to drain.
7
Drain off the excess fat from the geoduck pan and deglaze it with the sake. Add the soy sauce and lemon juice. Simmer to reduce for about a minute.
8
Remove the pan from the heat and add the butter, swirl it in until it melts completely.
9
Put the mushrooms and geoduck on each plate. Drizzle them with the sauce, then top them with some of the microgreens.
10
Add a few drops of lemon juice and a drizzle of extra virgin olive oil. Serve with a slice of lemon on the side.