Husband and wife team, Grant & Ashley Jones, have constructed an internet temple to all things geoduck over at GeoduckRecipes.com. Here they've been kind enough to share some of their expert knowledge of what is possibly the most bizarre and delicious clam in the world, along with a tasty looking recipe and some great photos.  Check it out!
What is a Geoduck? (And How Is It Pronounced?)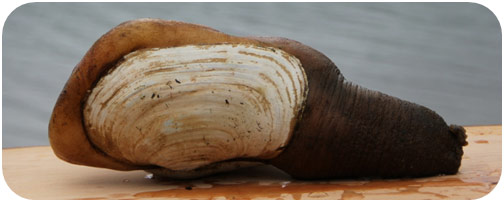 Say it with us: gooey-duck. To clarify, geoducks are neither gooey nor a duck. They do not quack and have no feathers. What a creature they would be if they did! Until recently geoducks had not been commonly known about by anyone other than Pacific Northwest clam diggers and adventurous foodies. But the world is slowly awakening to the culinary delights of this giant shellfish, and the recipes that can showcase it are endless.
Geoducks are almost exclusively found in the tidelands of Washington and BC. While they typically grow to an average of three feet in length (with neck extended) and two pounds in weight, they have been known to grow as large as six feet long and fifteen pounds! That's a big dinner. The body of the clam is so large it can't even fit into its shell.
Pictured with a 10" Santoku knife
Geoducks can live to be 150 years old and spend their whole lives buried three feet under the sand. As they grow they use a small foot on the bottom end to burrow further down. The name geoduck is a Nisqually word meaning 'dig deep'.
Geoducks are such bizarre looking creatures that it's no wonder they garner a wide variety of responses. The usual reaction is "You can eat that?!" Fortunately someone was once brave enough to try one, and now they possess worldwide culinary esteem. In China, where the geoduck is called the 'elephant trunk clam', it is considered a delicacy and an aphrodisiac (unfounded but understandable). The highest quality meat can fetch upwards of $160 per pound. The neck, or siphon, is eaten raw as sushi and the body meat, or mantle, is cooked fondue-style in a hot pot. In Japanese the thinly sliced pieces of raw sushi are called 'mirugai'.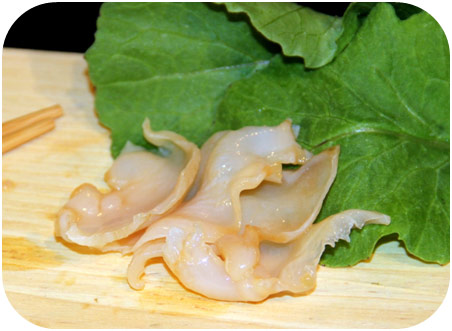 Though a geoduck is a very odd looking creature, it is actually quite straightforward to prep for the table. For complete instructions, visit our prepare geoduck page. Please note how the recipe you are making requires the meat to be prepared. Some require the use of a meat grinder. For this recipe however you will only need to slice. Some recipes also make use of only mantle or siphon meat; for this one you can use both. Mantle meat is softer and not eaten raw, while siphon meat is firm and almost crunchy in texture.
Your geoduck, whether you purchased it from a market or dug it yourself, should be fresh and alive with no bad odor. Careful, it may squirt!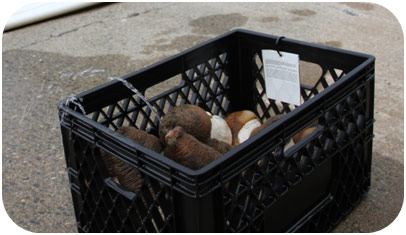 This recipe for marinated geoduck skewers has a great combination of flavors, enhanced perfectly by the smokiness of the grill. And who doesn't want an excuse to cook with tequila?
Margarita Grilled Geoduck Skewers
Prep Time: 15 Min
Cook Time: 5 Min
Ready In: 50 Min
Serves 4 as an appetizer
Ingredients
1 Geoduck, cleaned and sliced thin
2 cloves Garlic, minced
2 tablespoons fresh Lime Juice
3 tablespoons Olive Oil
1 ½ tablespoons Tequila
3 tablespoons Fresh Cilantro, chopped
1/4 teaspoon Ground Red Pepper
1/4 teaspoon Salt
1 Red Pepper
1 Yellow Pepper
4-6 Bamboo Skewers, soaked in water
1. Combine the geoduck, garlic, lime juice, olive oil, tequila, cilantro, red pepper, and salt in a bowl; toss to combine; refrigerate 30 minutes.
2. Dice peppers into 1 inch pieces.
3. Preheat an outdoor grill for high heat and lightly oil grate. Drain the marinade from the geoduck and discard; alternately thread the geoduck pieces and pepper on the skewers.
4. Cook on preheated grill until the geoduck turns opaque, about 5-6 minutes.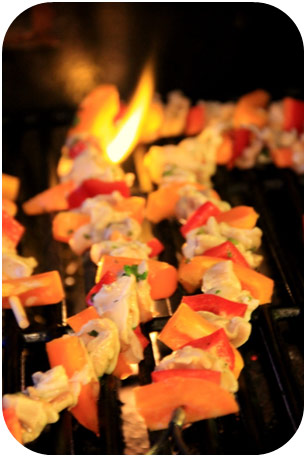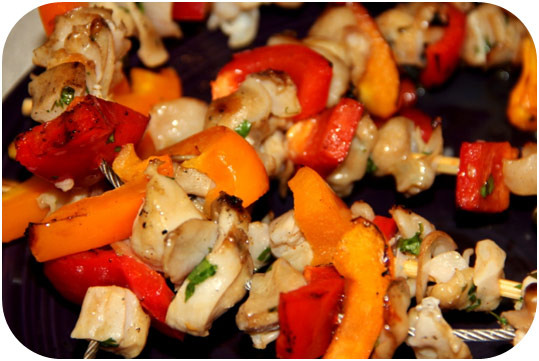 5. Mix an actual margarita and enjoy!
Post by Ashley Jones, Photos by Grant Jones