Makes 4-6 Servings
WINE PAIRING
Sake
Simple, but perfectly balanced, this dish features the crisp crunch of geoduck siphon meat dressed with meyer lemon, delicate white soy sauce, extra virgin olive oil and radish greens.
Olive oil richness is played off of the salty umami of the soy and the bright but not to tart meyer lemon.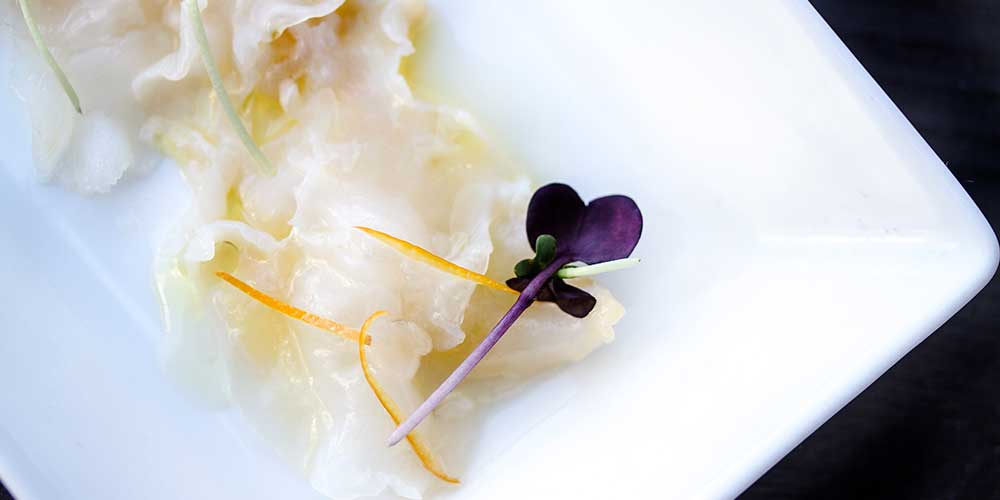 INGREDIENTS
1 Geoduck
Finely sliced Meyer Lemon Zest

White Soy Sauce

Fruity Olive Oil

Radish Microgreens (we used Farmbox Greens Micro Radish Blend)
DIRECTIONS
1
Put the geoduck on a shelf or edge of a table with the siphon hanging off to stretch the siphon out.
3
Very thinly slice (paper thin) the geoduck siphon on a bias.
4
Lay out the slices of geoduck on a platter.
5
Sprinkle a few drops of the white soy sauce, meyer lemon juice, olive oil and meyer lemon zest.
6
Garnish with some microgreens.