Garlic, Spinach, Olive & Cheese Pennette
Cheesy, tart, savory & rich, this dish is easy to make and intensely satisfying. Because you can make the garlic paste ahead of time, this is a perfect recipe for a busy weeknight.
If you wanted to make it even more substantial, you could add bacon, pieces of duck confit, or sautéed wild mushrooms.
We used unpitted olives for extra flavor, but you could certainly substitute pitted ones if you're concerned about somebody chipping a tooth.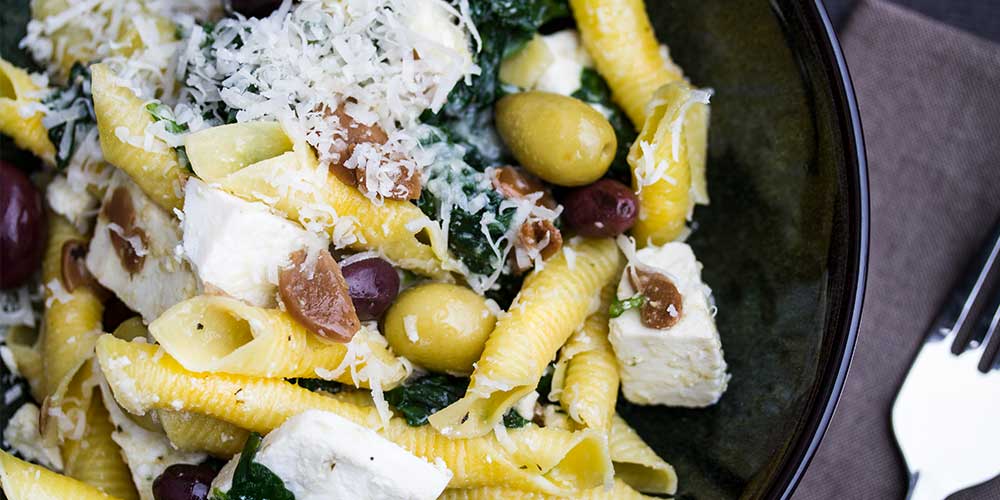 INGREDIENTS
1 package Filotea Pennette (could substitute other penne)

2 heads of Garlic

2 tbsp Extra Virgin Olive Oil

2 tbsp GarLic It! Caramelized Garlic Finish

½lb Young Spinach Leaves, cleaned

1 cup Ricotta Salata Cheese

2 tbsp Smoked Olive Oil

Mixed Unpitted Olives (we recommend Nicoise, Kalamata and/or Castelvetrano)

Parmigiano Reggiano Cheese, Finely Grated
DIRECTIONS
1
Break the heads of garlic into individual cloves, but do not peel them.
2
Put the cloves in a frying pan with cold water to cover. Bring the water to a boil, then pour it off. Repeat two more times with fresh water.
3
Boil the pasta in salted water until done (approx. 6 minutes for Filotea Pennette), then drain off the water.
4
Dunk the blanched garlic cloves in cold water briefly to cool them off. Peel them and turn them into a paste (using a food processor, mortar & pestle, or by pressing them through a fine mesh sieve or tamis).
This paste can be made ahead of time and frozen or stored covered with olive oil in the refrigerator for up to a week.
5
Add the extra virgin olive oil to a large frying pan over high heat. Add 1 tbsp of the garlic paste, the spinach leaves, and caramelized garlic. Stir.
6
Once the spinach has started to melt, add the ricotta, olives, pasta and smoked olive oil. Stir to combine.
7
Spoon the pasta mixture into bowls and top with the Parmigiano Reggiano cheese to taste. Serve.