Fried Quail Lollipops with Ponzu, Daikon & Scallion
Makes 4 Servings
WINE PAIRING
Japanese Lager (Sapporo, for example)
Savory & citrusy with plenty of umami, these little lollipops make a great upscale bar snack.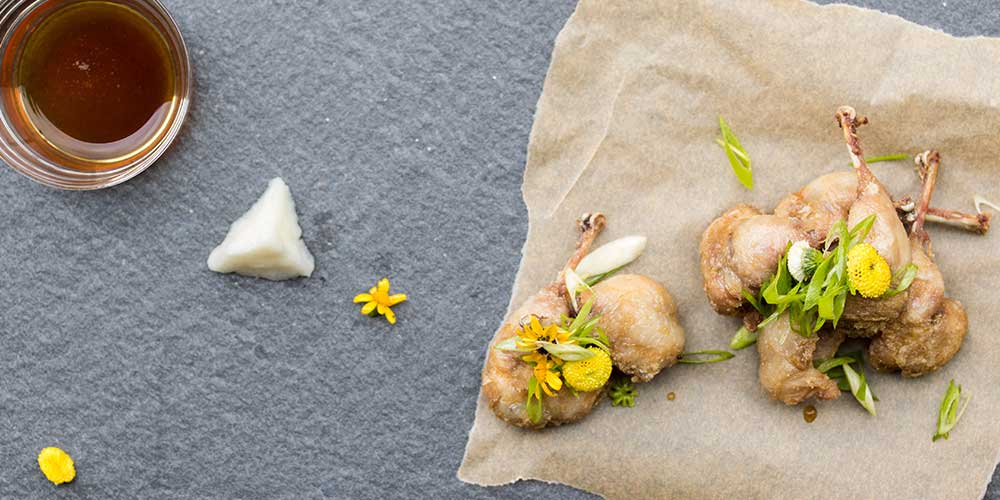 INGREDIENTS
¼ cup Yuzu Ponzu Base

1 tsp Tamari Soy Sauce

Daikon Radish, very finely grated

Scallion, thinly sliced on a bias

Toasted Sesame Oil

White Rice Flour

2 cups High Heat/Frying Oil
DIRECTIONS
1
Mix together the ponzu base and tamari in a small bowl.
2
Season the lollipops with salt & dust them with the rice flour.
3
Gently squeeze the quail meat around the bone & secure them each with a toothpick to hold the meat to the bone.
4
Pour the oil into a small pot and heat it to 350°F.
5
Fry the quail lollipops until cooked through. Move them to a paper towel to drain & carefully remove the toothpicks.
6
Dip each lollipop in the ponzu mixture & plate them with side dishes of additional ponzu and some grated daikon.
7
Toss the sliced scallion with a little sesame oil and (if desired) the flowers.
8
Sprinkle the scallion mixture across the plates.