Bill of Okay, Check it Out is a blogger who really knows his stuff. His posts are always filled with incredible details and you'll probably learn something new about an ingredient, culinary tradition, or recipe technique. And he's always up for a challenge. Bill put some fresh turmeric to the test and shared some of his recipes with us – check them out below!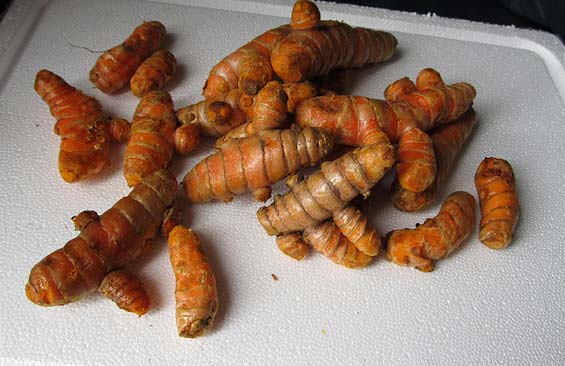 Fresh turmeric is really a revelation. Pretty much everyone is familiar with dried turmeric, if only as the thing that makes so many commercial foods — from mustard to canned chicken broth — yellow. But the dried stuff hardly ever has any flavor, and the fresh stuff … well, wow. You can certainly tell it's a relative of the ginger family, but it has a flavor of its own, distinctive enough that I try not to add too much ginger with it, because I don't want the turmeric to be masked. It's bitter, but not overwhelmingly so – like bitter greens or mustard – and medicinal, though not as medicinal as kaempfer. That medicinal taste is covered up surprisingly easily by other strong ingredients, which explains why it's used so commonly in South Asian and Persian cooking, without overwhelming every dish.
To compare it to a flavor more familiar to Americans, think of cumin – not because it tastes like cumin, but think of what a distinctive and pungent flavor cumin is, and yet how well it blends in with other ingredients when you make tacos or chili, without dominating those dishes. Making something that's especially cumin-forward can actually be challenging, and it's the same with turmeric – when you're chopping it up, you may worry it's going to overpower everything, but it's a very cooperative team player.
Though I don't include it here, I really like fresh turmeric with fish. I just didn't see any fish worth buying during the time I was working on this post – just one of those things.
Also note that turmeric will stain everything. Everything. Your hands will look like you've been a heavy smoker for years. So much as whispering "turmeric" will stain a white shirt. Be warned.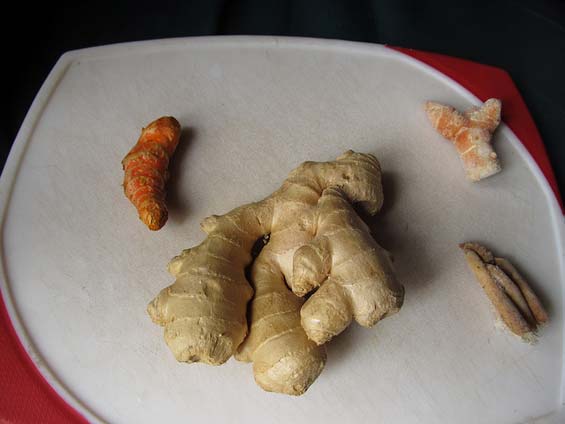 From left to right: turmeric, a large piece of ginger, galangal (upper right), kaempfer (lower right).
What I like to do when I have an interesting ingredient like this is put it through the gauntlet: use it in as many ways as I can think of, without necessarily focusing too narrowly on how it's traditionally used.
The first thing I did was peel and grate a bunch of it.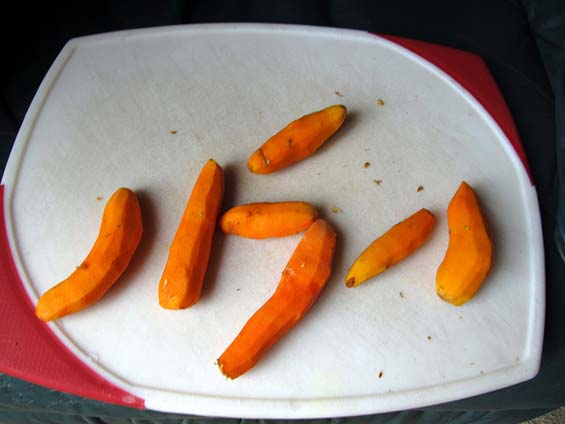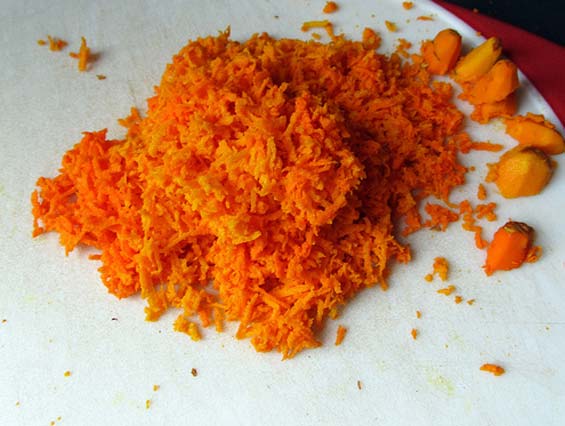 Grated and mixed with salt and lemon juice, turmeric will keep a long time in the fridge. It's been a few weeks and I haven't noticed any loss of flavor yet, though I'm sure that will eventually set in. In Indian cuisine, this is a simple pickle, one you might dress up with the addition of a little ginger or some fried mustard seeds.
To get a headstart on some of the things that would take the longest, I sliced some of the peeled, ungrated turmeric and candied it according to this recipe (the gist of which is to put it in a weak sugar-water solution and increase the amount of sugar gradually over two weeks, to give the turmeric time to soak it up). I also took some unpeeled turmeric, smashed it with the flat of my chef's knife, and put it in a small bottle of vodka, in order to start a turmeric amaro.
After about two weeks, I strained the turmeric-infused vodka and added some chopped pieces of pineapple (rind and fruit – this is a good way to use up pineapple cores), a small amount of ginger, and some brined green peppercorns ($2 at my local Asian market, much different flavor from dried green peppercorns). Gave that another few days, then strained the vodka and added the turmeric-infused syrup that had resulted from candying the turmeric slices. The result: a sweet, slightly bitter liqueur tasting mostly of turmeric, but with a more well-rounded flavor from the addition of the other botanicals.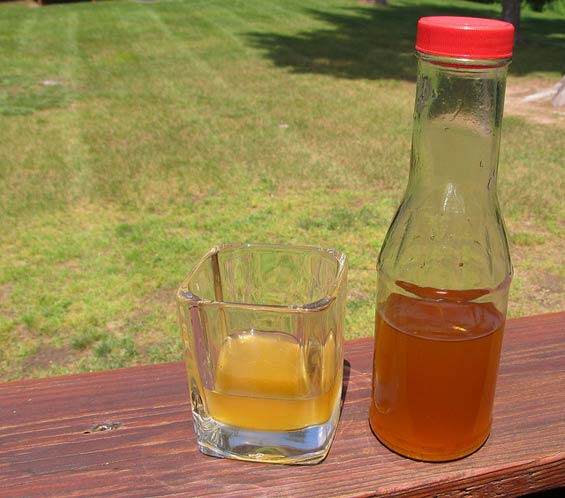 This is exactly the sort of thing I was hoping to come up with when embarking on this turmeric adventure — a use for turmeric I hadn't heard of before (although turmeric is used in Averna amaro, it isn't the dominant flavor). I used the turmeric amaro in this cocktail, the Siam Tulip, based loosely on the Oriental:
1 1/2 oz rye whiskey
1 oz turmeric amaro
1/2 oz Cocchi Americano
3/4 oz fresh lemon juice
dash of orange blossom water
Shake with ice and strain.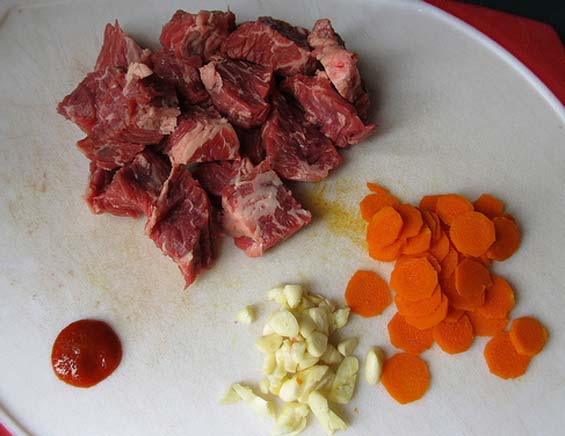 Now, the first thing I actually cooked with this turmeric was a simple turmeric beef lunch. I chopped up sirloin tip – a common cut of beef in New England, also known as flap steak or bavette – and simply sauteed it with chopped turmeric, garlic, fish sauce, sriracha, and a little water until the liquid had dissolved. Salty and turmeric-y, with the richness of a fried egg to accompany it.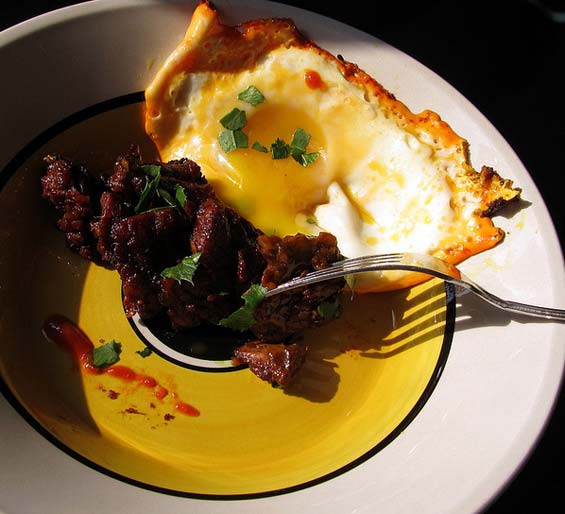 Turmeric chutney is a natural. I used apricot to add a little sweetness and body.
Take one fresh apricot and chop it. Add equal amounts of shredded or grated turmeric and ginger to equal the volume of that apricot. In other words, by volume: 2 parts apricot, 1 part turmeric, 1 part ginger. Add 1 part honey, 1 habanero pepper, a couple cloves of garlic, blend everything, and reduce it in a pan until it thickens – add a little lemon juice to cut the sweetness.
I had the chutney with turmeric chicken with coconut couscous. The turmeric chicken is easy, though the turmeric flavor is not strong. Mix chopped turmeric, ginger, and garlic with butter and salt, and stuff them under the skin of a spatchcocked chicken (a whole chicken split down one side and flattened). Roast it at 450 for an hour and let it rest for 30 minutes.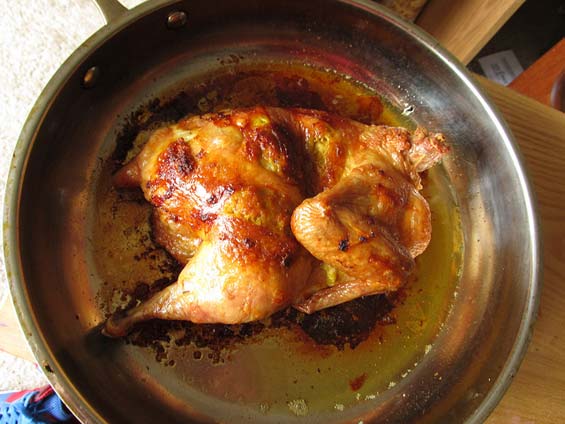 Towards the end of the chicken's resting, deglaze the pan with coconut milk and cook Israeli couscous – which is much larger than regular couscous – in it. Coconut couscous is delicious. Trust me, you want to do this.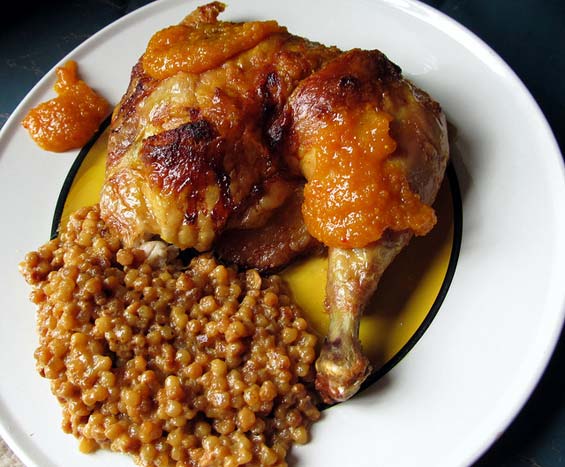 I actually made the chicken and couscous twice. The second time, I put the bones in Caitlin's slow cooker with a little turmeric, ginger, and garlic, and made stock overnight. We had chicken soup the next day: I put chopped leftover chicken, turmeric, ginger, habanero, and fresh herbs (bloody dock, rau ram, culantro, and Texas tarragon) in bowls, added some cooked noodles, and poured hot reduced stock over. Finished it with a little coconut milk – about a quarter cup for two servings.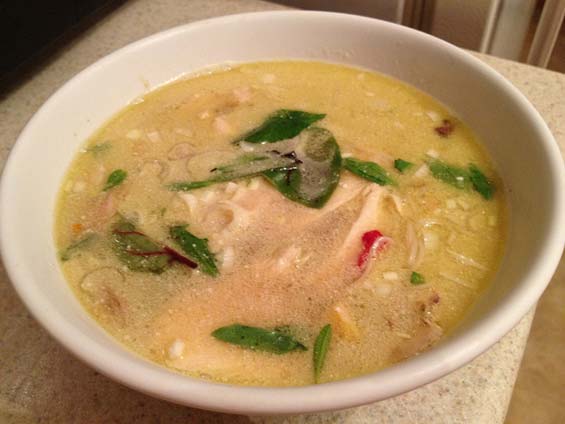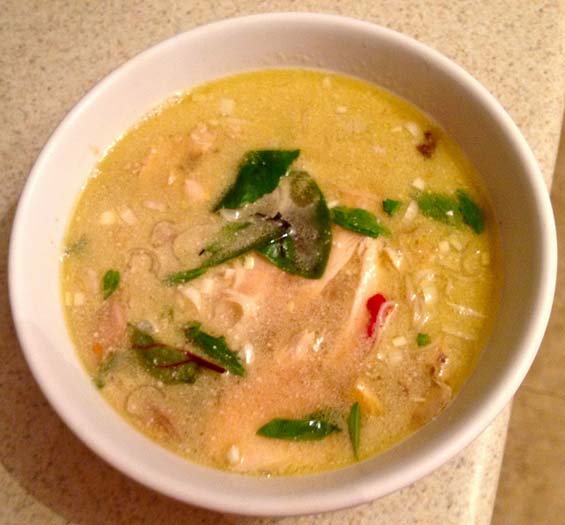 Finally, I've had bad Chinese food on my mind lately. You know, mall food courts, Polynesian lounges where everything comes with brown sauce or maraschino cherries, fried shrimp buried in mounds of batter. So that … ended up inspiring this sweet and sour ddukbokki. Ddukbokki is a Korean fast food dish made with dduk – neutral-flavored ricecakes (nothing like the American diet food ricecakes) – simmered in incredibly hot sauce. Dduk, especially the thick tubular kind (look in the refrigerated or frozen section of your Korean market), has this great, soft, pillowy-chewy texture that I just love. The starch thickens whatever liquid they're cooked in, like the cornstarch-thickened sauce of sweet and sour chicken.
Here, I cooked it with chopped fresh pineapple, chopped turmeric, and a little bit of ginger, adding water to come halfway up the dduk and simmering it, covered, until the dduk was softened and cooked through. At that point I added a little soy sauce, a few squirts of sriracha, and some sour cherry preserves, and cooked it uncovered until the liquid was reduced. Added a little lemon juice for tartness.
The meat was cooked separately so that it didn't flavor the cooking liquid. Thin strips of lamb and a chopped hot dog. Yep, a hot dog. There's some Asian precedent here – Korean budae jigae, the use of hot dogs in Filipino food – but really, I just thought a hot dog would work with the "mall Chinese" aesthetic.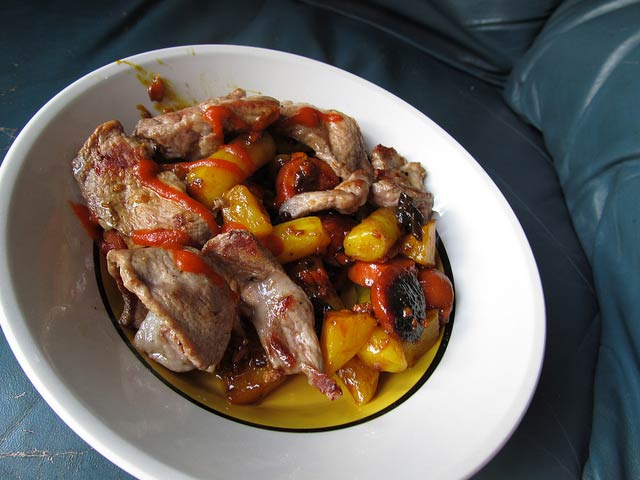 ___________
Browse More:
Produce Recipes