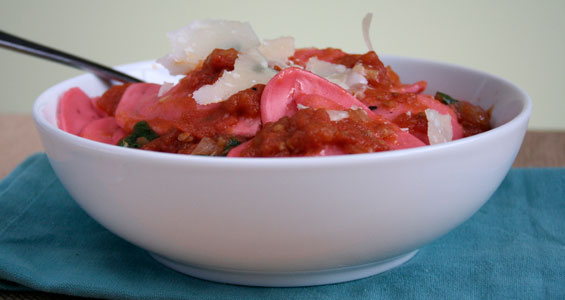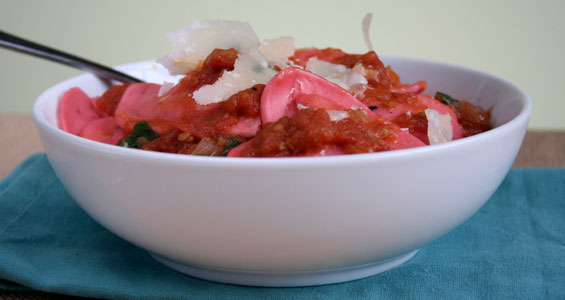 This simple, but delicious fresh tomato pasta sauce recipe was originally designed for use with Nuovo's heart-shaped Ricotta, Mozzarella & Asiago ravioli, but it could be used with most specialty pastas (particularly the cheese filled artisan raviolis).
Fresh Tomato Pasta Sauce (makes enough to serve 4)
Ingredients:
½ cup Extra Virgin Olive Oil
¼ cup finely chopped Onion
3 cloves fresh Garlic, minced or pressed
4 cups Ripe Tomatoes, cut into ½ inch dice
2 teaspoons Aged Balsamic Vinegar
½ cup Fresh Basil, cut into slender ribbons (chiffonade)
Salt and Pepper to taste (we recommend Portuguese sea salt and Tellicherry black pepper)
Parmigiano Reggiano Cheese
Note: to make chiffonade, roll basil leaves lengthwise into tight cylinder. Slice cylinder crosswise into 1/8 inch ribbons.
Directions:
1.  Heat oil in large heavy skillet over medium heat. Add onions; sauté until soft, about 10 minutes, stirring frequently.
2.  Add garlic; sauté 1 minute, stirring to prevent browning.
3.  Add tomatoes and balsamic vinegar and bring to simmer. Lower heat and cook uncovered until softened, stirring frequently. For a fresher sauce with firmer tomatoes, simmer just 5 minutes. For a softer, smoother sauce, simmer longer—up to 15 minutes.
4.  Stir in basil during last minute of cooking; add salt and pepper to taste.
5.  Top freshly cooked and drained ravioli with sauce and finish with freshly grated parmesan cheese.
Original recipe by Trina Kaufman.