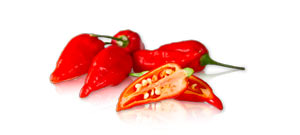 These three bloggers have put our new fresh ghost chilies through their paces … read below for a full blow-by-blow report of the Ghost Chile experience:
James of Eat More Heat did a live one-man, one-ghost chile performance, which he's cut down to a hilarious and highly educational video.  He starts out describing the flavor nuances and heat development like the epicurean expert he is, but within a minute he has switched from culinary terms to things like: "it tastes like pain" and "like burping hot coals".
Chilebomb's review is exacting.  Matt describes peppers' tendency to release capsaicin in an aerosol/mist form into your mouth (a point well worth making when you're considering the world's hottest pepper, naga jolokia), and how to breathe in order to minimize coughing fits. And, he'll give you a minute-by-minute roadmap to the ghost chiles' intensity, so you know exactly what to expect when.  His photos really capture the jolokia chile's intense red color too.
Livia over at No Counterspace included a great variety of tasty looking recipes in her review, among them a candied pepper truffle recipe that's very intriguing indeed!
Thanks to you all for taking one chile each for the team, you're far crazier braver than we are.
PS: Salty Seattle & La Fuji Mama: These three are serious contenders for foodninjahood.