Makes 1-4 Servings
DRINK PAIRINGS
Pilsner or Lager
The classic casual clam recipe is made much more delicious with fresh clams, improving the finished flavor and texture of the dip.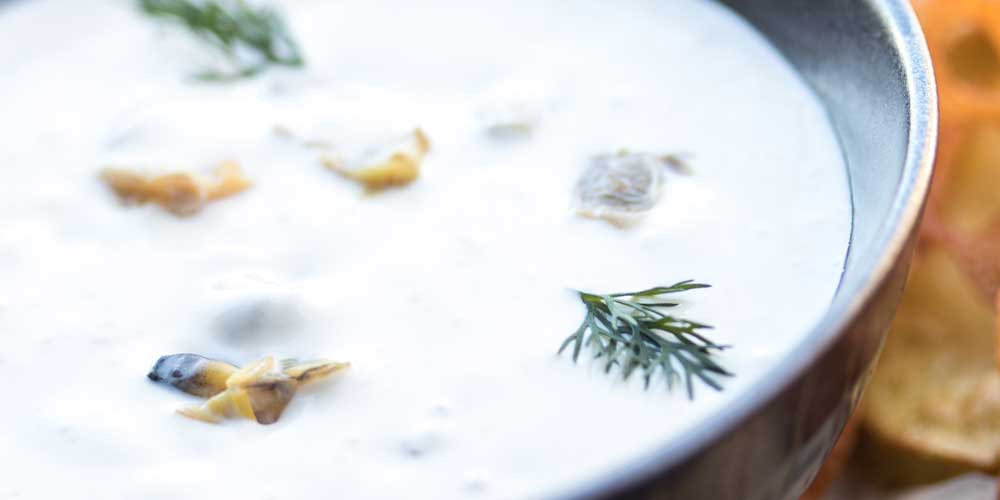 INGREDIENTS
1 cup Sour Cream

2 tsp Lemon Juice

½ tsp Worcestershire Sauce

Hot Sauce of Your Choice, to taste (we used 1 tbsp Bonache Hatch, plus a little Bonache Habanero)

1lb Small Clams (manila clams or small quahogs)

¼ cup Vermouth

Potato Chips, Fritos, or Homemade Root Vegetable Chips

Dill Sprig for Garnish
DIRECTIONS
1
Rinse off the clams, discarding any that are open and won't close when pinched.
2
Put the clams in a small saucepot, with the vermouth, over high heat, covered. Bring the vermouth to a boil, then lower the heat and continue to cook for another minute.
3
Strain the liquid that's left in the pan and reserve.
4
Remove the clams from their shells and chop the meat (small dice).
5
In a bowl combine the sour cream, lemon juice, Worcestershire sauce, hot sauce, salt to taste & two tablespoons of the reserved clam liquid.
6
Serve with your chips of choice.