Makes 4 Appetizer or 2 Entrée Servings
This lighter braise omits the deep, heavier flavors found in many of our other Merino rib recipes in favor of a lighter white wine, fennel & chicken stock sauce.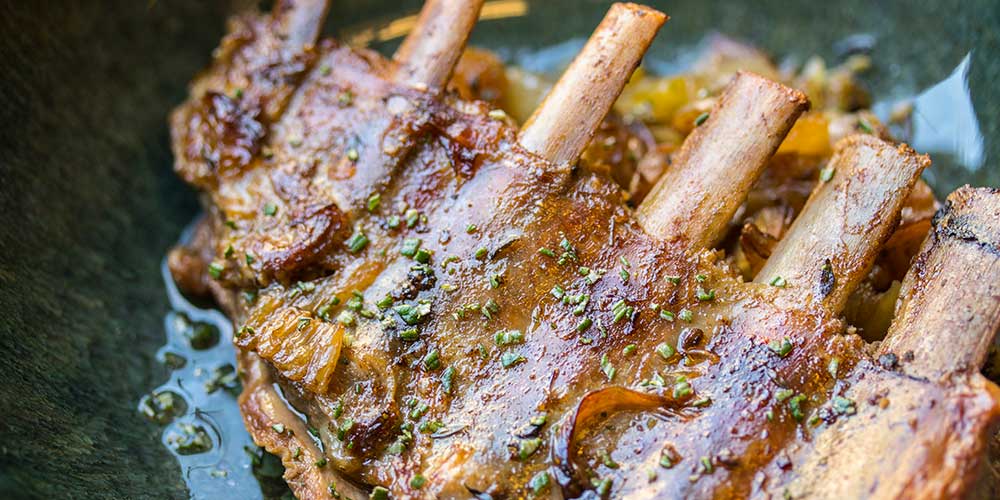 INGREDIENTS
1 tbsp Canola Oil

1 stalk of Celery, Diced

1 small Onion, Diced

1 small Fennel Bulb, Diced

2 sprigs of Fresh Thyme

1 tbsp Fennel Seeds

2 Bay Leaves

½ cup White Wine

3 cups Chicken Stock (lowest possible sodium or homemade chicken stock)

Salt & Pepper
DIRECTIONS
1
Preheat the oven to 300°F.
2
Heat the canola oil in a large cast iron skillet over high heat.
3
Dry any moisture off of the spare ribs. Season them generously with salt & pepper on both sides.
4
Sear the ribs in the hot canola oil, meat-side down, just long enough to develop a nice brown crust.
5
Remove the ribs from the pan. Add the diced celery, onion, and fennel, and the thyme, fennel seeds, and bay leaves to the pan. Saute them for five minutes, then add the white wine and scrape the bottom of the pan with a wood spatula to free up the flavorful
fond
that's adhering there.
6
Return the ribs to the pan, nestling them amongst the vegetables. Add the chicken stock.
7
Bring the liquid to a boil, then cover the pan and place it into the oven to braise until the meat on the ribs is tender. Check after 2 hours.
8
Remove the ribs from the braising liquid to rest, tented with foil to keep them warm. Pour the braising liquid through a strainer into a bowl or other container. Press the solids into the strainer to get them to release their liquid.
9
Return the braising liquid to the pan and simmer until it reduces by half its volume, skimming off any fat that comes to the surface. Serve the ribs drizzled with the sauce.