Fregola Sarda Salad with Treviso, Goat Cheese & Tart Cherries
WINE PAIRING
Sancerre
This couscous salad offers a range of contrasting textures (crisp, chewy & creamy) and flavors (tangy, sweet, bitter, nutty, piney & salty).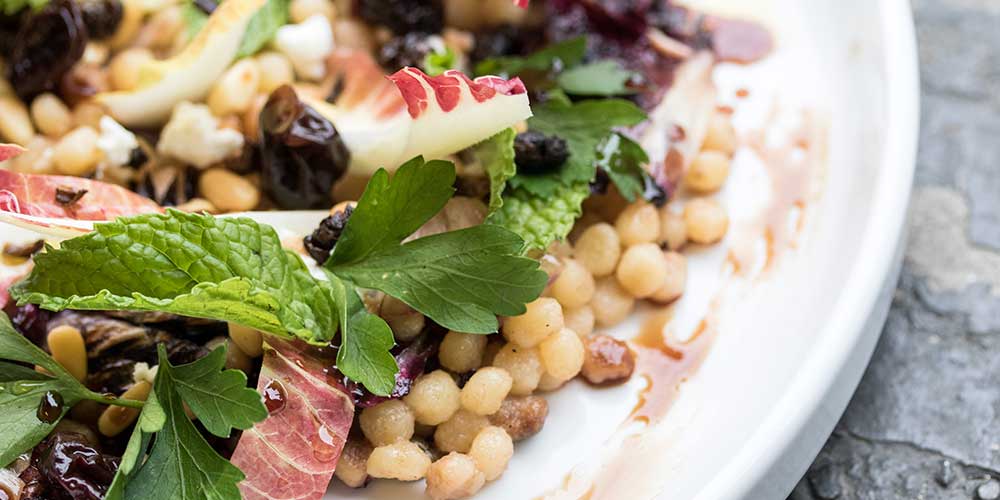 INGREDIENTS
3 cups Large Fregola Sarda

1 head Radicchio

1 head Treviso

¼ cup brine-packed Capers

¼ cup Dried Tart Cherries

¼ cup Flat Leaf Parsley Leaves

¼ cup Mint Leaves

¼ cup Amaro Meletti

¼ cup Water

2 tbsp Balsamic Vinegar

1oz Chevre Goat Cheese, crumbled

¼ cup Pine Nuts, Toasted
DIRECTIONS
1
Cut the radicchio into quarters.
2
In an oiled, heavy-bottom pan, char the radicchio quarters.
3
Deglaze the pan with the balsamic vinegar.
4
Remove the radicchio and roughly chop it.
5
Deep fry the capers in a pot with a shallow layer of canola oil, until they stop bubbling.  Remove them from the oil & drain off the excess oil on paper towels.
6
Bring the meletti and water to a boil in a small sauce pot with the tart cherries.  Remove the pot from the heat and cover it, letting the cherries rehydrate.
7
Boil the fregola in salted water, until tender, then drain off the water.
8
Toss the radicchio & the pine nuts with the fregola.  Season to taste with salt.
9
Briefly plunge the treviso in ice water to crisp it up.  Cut it into long strips.
10
Sprinkle the fregola mixture with the goat cheese, mint & parsley leaves, fried capers and Treviso.
11
Simmer the cherry rehydrating liquid to reduce it in volume by half.  Drizzle it over the salad.