Foie Gras, Lettuce & Tomato Open Faced Sandwich
This play on a BLT replaces the richness of bacon with luxurious, unctuous seared foie gras.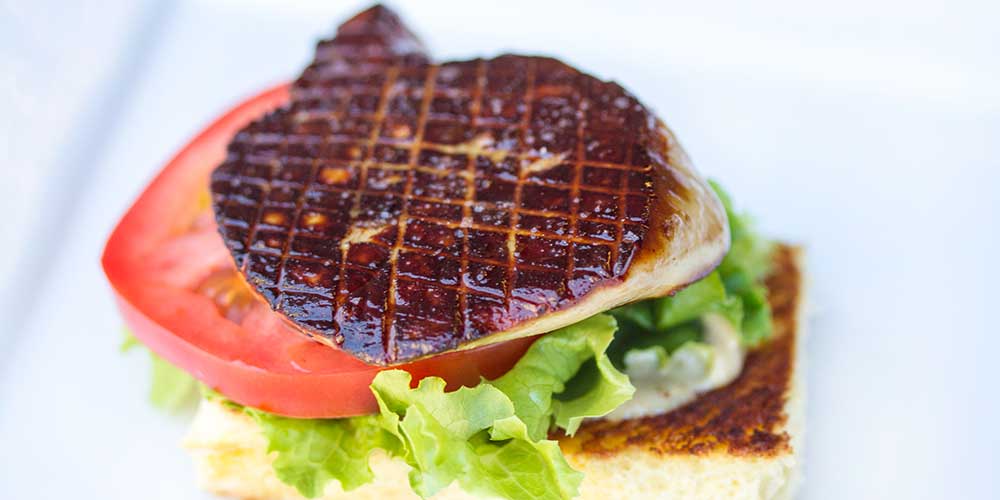 INGREDIENTS
Four 2 oz slices of Frozen Grade A or B Foie Gras

2 tbsp Room Temperature Unsalted Butter

Four 2" thick slices of Brioche Bread

1 Head Butter Lettuce

2 Sliced Heirloom Tomatoes

Salt and Pepper
DIRECTIONS
1
Lightly butter the brioche slices and toast them until golden brown.
2
Spread a thin layer of foie aioli on to toasted brioche.
3
Stack 2/3 leaves of lettuce cut to fit the toast on top of each slice of bread.
4
Place 2 slices of tomato on each open faced sandwich.
5
Remove the foie gras slices from the freezer 2 minutes before you're ready to sear them. Heat a pan over high heat until it is very, very hot.
6
Score both sides of the foie gras pieces and season them liberally with salt and pepper.
7
Place the scored portions in the pan, they should sear IMMEDIATELY. (This will keep the foie from sticking). Cook for 2 minutes, then flip and cook for another 2 minutes.
The foie gras should render just a little bit of fat and largely hold the same shape, remaining slightly firm in the middle and crispy on the outside.
One way to test for doneness is to insert a cake tester in to the center of the foie gras for 20 seconds, then place the tip on your lower lip. It should be lukewarm to the touch.
8
Top each open faced sandwich with a foie slice and serve immediately.