Seared Foie Gras with Corn Cakes, Corn Sauce & Marmalade
Makes 8 Servings
WINE PAIRING
Sauternes
This dish pairs the richness of foie gras with creamy corn, smoky bacon and a savory/tangy corn sauce.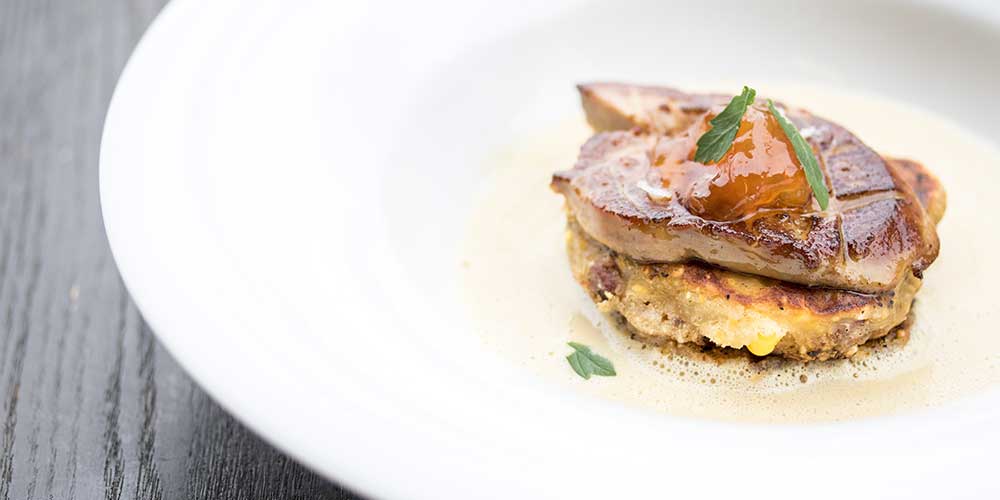 INGREDIENTS
1 lobe Grade A Foie Gras

Yuzu Marmalade

Flake Sea Salt (we used Jacobsen Sea Salt)
Corn Cake Batter:

¾ cups All Purpose Flour

½ cup Corn Meal

2 ½ tsp Baking Powder

1 tbsp Granulated Sugar

¾ tsp Salt

¾ cup Milk

1 Egg

1 ear of Corn

2oz Bacon, very small diced

3 tbsp melted Unsalted Butter
Sauce:

Corn Kernels from 1 Cob, plus scraped juices from residual cob

2 tbsp Water

1 tsp Barrel Aged Fish Sauce (could substitute Red Boat Fish Sauce)

¼ tsp Yuzu Juice

1 tsp Reserved Foie Fat
DIRECTIONS
1
In one bowl combine the all-purpose flour, corn meal, baking powder, sugar & salt. In a different bowl beat together the milk and egg.
2
Cut the corn off the cob, put all of it in the egg & milk mixture. Scrape the ear with a spoon to get all the remaining corn milk/essence into the egg & milk mixture. Add the melted butter.
3
Render the minced bacon in a frying pan until crispy.
4
Mix the dry ingredients into the wet ingredients to create a batter. Add both the crisped bacon and the bacon fat from the pan.
5
Add additional oil to the pan where you cooked the bacon and cook small corn cakes from the batter, flipping when the bottoms are browned. You'll need to work in batches.
7
Score the foie gras slices and sear them in the skillet, just until the bottoms have browned. Flip them and sear for just a few seconds on the other side, then remove from the skillet immediately.
Work in batches, draining off the collected fat from the pan in between each batch. Reserve the fat.
8
Blend together the sauce ingredients (including 1 tsp of the reserved foie fat) in a blender to a smooth puree. Strain the resulting sauce through a fine mesh sieve.
9
Pour some of the sauce into each bowl, top it with a corn cake, then top the cake with a slice of seared foie.
10
Top the foie slice with a teaspoon of the yuzu marmalade and a sprinkle of sea salt.