Seared Foie Gras with Corn Pudding and Blueberries
This recipe cuts the extreme (but luxurious) richness foie gras with the fruity, vinegar-ed bite of pickled blueberries and compliments it with the sweetness of a corn pudding.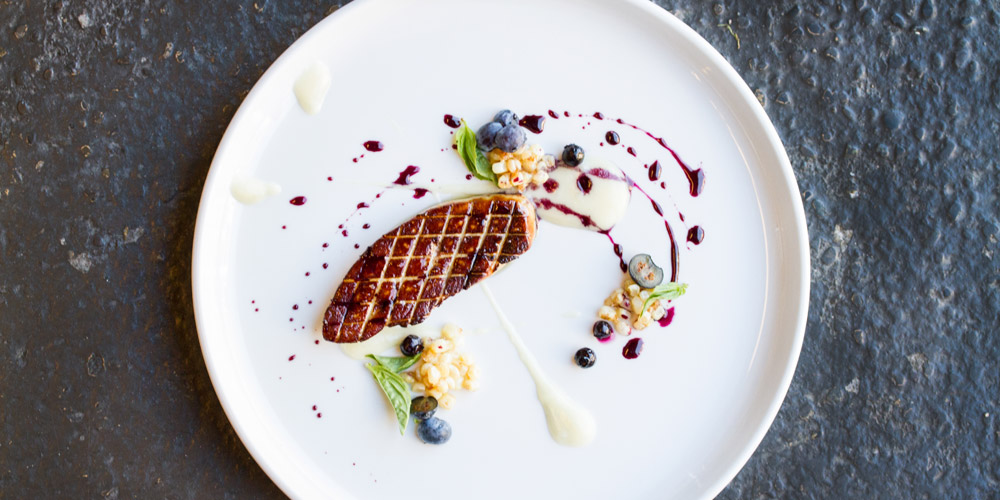 INGREDIENTS
2oz slice of Grade A Foie Gras (frozen)

2 ears of Sweet Corn, cleaned and shucked from cob

1oz Unsalted Butter

6 Fresh Blueberries, sliced in half

5 leaves of Fresh Basil

6 Bow Hill Pickled Blueberries
DIRECTIONS
1
Reserve 1/4 of the shucked corn and place the rest into a high power blender. Puree on high until liquefied. Strain the liquid through a fine mesh strainer or chinois into a sauce pan.
2
Cook over medium-high heat using a spatula constantly scraping the bottom of the pan to prevent scorching. Once the liquid begins to simmer and thicken (it should resemble crème anglaise) immediately remove from heat.
3
Pre-heat a saute pan over high heat. Add butter and the remainder of the corn, then saute quickly until slightly browned. Remove from the heat and add to your thickened "corn pudding."
4
Remove the foie gras from the freezer and re-heat the same pan used for the corn over high-heat.
5
Score both sides of the foie gras and season it liberally with salt and pepper.
6
Lay the foie gras into the very hot pan and sear for 2 minutes per side, until evenly colored. Remove it from the pan and place on to a paper towel while plating the accompaniments.
7
Place corn pudding in the middle of a large flat plate and top it with the foie gras. Garnish with both the fresh and pickled blueberries along with the basil. Serve immediately.