Foie Gras with Pickled Blueberries & Fennel-Leek Puree
Makes 6 Servings
WINE PAIRING
Sauternes
This dish balances the incredible richness of seared foie gras with the bite of pickled blueberries and a creamy, faintly anise-y fennel leek puree.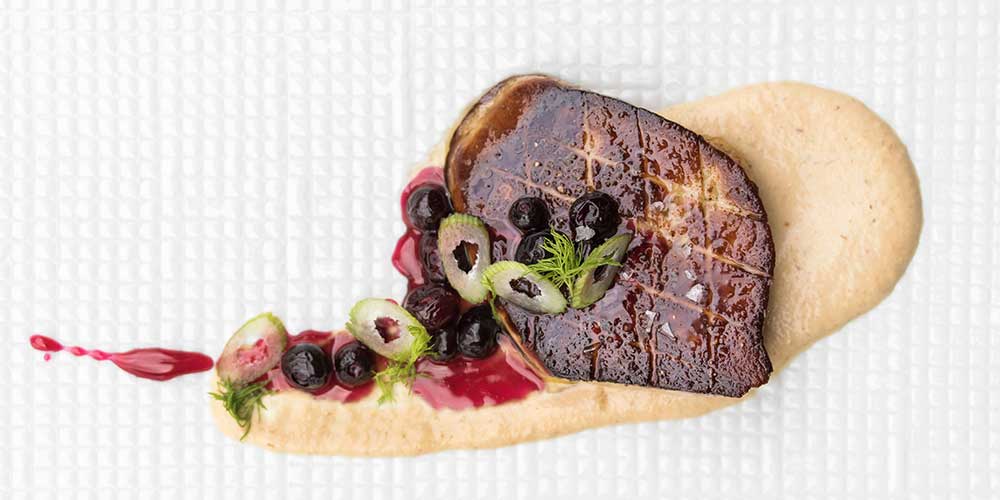 INGREDIENTS
Blueberry Sauce:

1 tbsp Pickling Liquid from Organic Pickled Blueberries

1 tbsp Honey (we used Shipwreck Wildflower Honey)
Fennel Leek Puree:

½ cup Fennel Bulb, diced

½ cup Leek, diced

¼ cup Beef Stock

2 tbsp Greek Yogurt

1 tbsp Unsalted Butter
DIRECTIONS
1
Caramelize the fennel & leek in a pan with olive oil.
2
Using a blender, blend the caramelized fennel bulb & leek with the beef stock, butter & yogurt to a smooth puree. Press the puree through a fine mesh strainer to work out any lumps.
3
Simmer together the pickling liquid & honey until they coat the back of a spoon.
5
Serve the foie above the fennel leek puree, topped with a small amount of the sauce, garnished with blueberries & fennel stalk slices.