Makes 3 Servings
WINE PAIRING
Napa Cabernet Sauvignon
This bistro classic is surprisingly easy to make at home.  The keys are to pick top quality beef, a cut that's big on flavor while also being tender (flat iron steak is an excellent choice), and to fry your fries twice.
The first fry (sometimes referred to as "blanching" the fries) – helps cook the middle of the fries, while the second, hotter fry caramelizes & crisps the outside.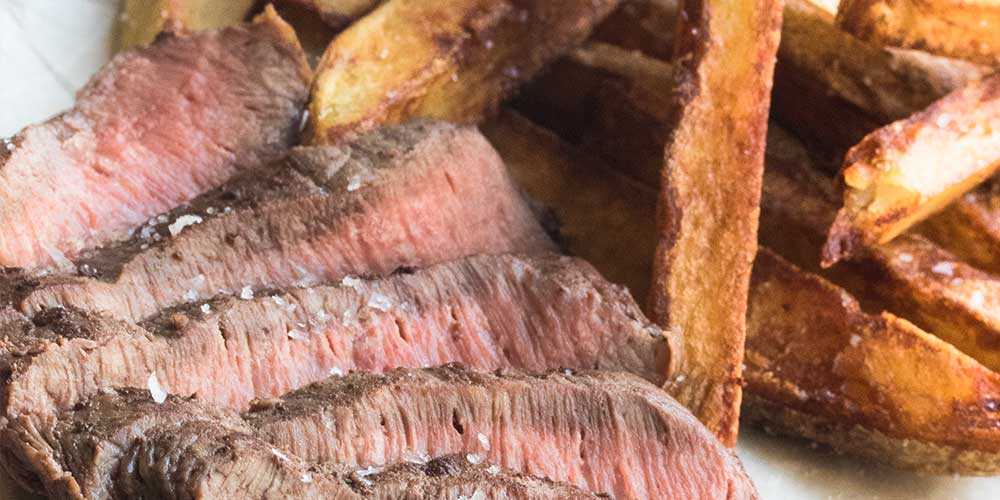 INGREDIENTS
2 Russet Potatoes

Lemon Juice

Frying Oil

Salt
DIRECTIONS
1
Cut the potatoes into thick fries (batonnet cut)
As you cut the potatoes, put the cut fries in ice water with a little lemon juice to keep them from browning.
2
Heat a deep layer of oil (about 3") in a deep pot to 325°F.
3
Remove the fries from the water & dry them thoroughly. Fry them in the oil for 3 minutes, then remove them from the oil to drain on paper towels.
4
Season the flat iron steaks liberally of salt & lower them into a very hot, oiled frying pan or skillet over high heat. Reduce the heat to medium-high.  Sear the steaks, turning as needed, until they're cooked to your preferred doneness.
Recommended Cooking Temps:
Rare – 120°-125°
Medium Rare – 130°-135°
Medium – 140°-145°
Medium Well – 150°-155°
Well Done – 160° and above
5
Remove the steaks from the heat & put them on a clean plate to rest while you finish the fries.
6
Heat the oil to 375°F & fry the fries again, working in batches, until they're golden brown. Remove them from the oil & drain them on fresh paper towels.  Season with salt.
7
Serve the steaks with the fries – whole or sliced.