The tiny, jewel-like balls of juice (vesicles) inside finger limes have a tart lemon-lime flavor and are an exciting finishing touch for fruit salads. You can use pretty much any fruit in your salad (though we recommend not adding other citrus, let the finger limes' flavor stand on its own). Just pick with an eye for different colors and textures.
Here's the version we made: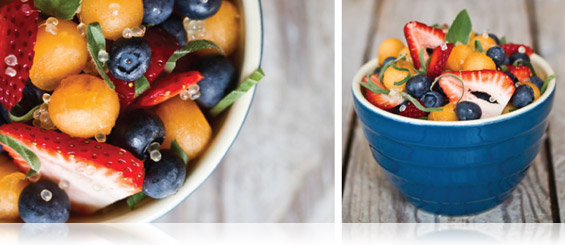 DIRECTIONS
1
Wash all the fruit and the mint leaves.
2
Cut the cantaloupe and strawberries however you wish. We used a medium melon baller on the cantaloupe and thinly sliced the strawberries. Leave the blueberries whole so their juice doesn't stain the other fruit.
3
Pile the cantaloupe, strawberries, and blueberries in a bowl or on a plate.
4
Slice the finger limes in half and give them a gentle squeeze to release their juice vesicles.
5
Chiffonade the mint leaves.
Select several mint leaves of the same approximate size. Slice off their stems, and pile them up on top of each other. Gently roll this stack into a tube and slice thinly.
6
Garnish the fruit salad with the mint leaves and then the finger lime.