Farro Salad with Herbs, Vinegar, Feta and Peaches
Nutty, fruity, tangy & refreshingly herbaceous, this simple, easy grain salad has a hearty chew to its texture.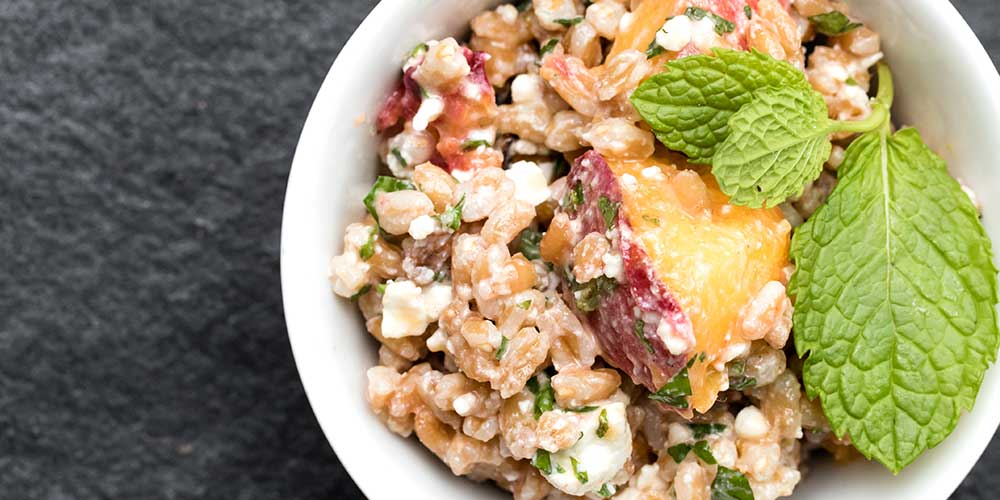 INGREDIENTS
Farro:

1.5 cups Italian Farro (Emmer)

1.5 cups Vegetable or Chicken Stock

2.5 cups Water

1/4 tsp Salt

1 tsp Olive Oil
7oz Feta Cheese, crumbled

3 Peaches, pitted & medium diced

¼ cup Chopped Flat Leaf Parsley

¼ cup Fresh Mint

1/8 tsp Black Pepper

2 tbsp Extra Virgin Olive Oil
DIRECTIONS
1
Cook the farro: Combine all the farro ingredients in a pot on the stove. Bring the liquid to a boil, then reduce the heat to Medium Low.  Simmer until the grain is tender (about 20 minutes), then drain off any excess liquid.
2
Chill the farro completely.
3
Toss the farro with the feta, herbs, salt, pepper, extra virgin olive oil, and peaches in a large bowl.