Fennel & Parmesan Pasta Sauce
This pasta sauce prominently features the crisp, anise-like flavor of fresh fennel bulb cooked with white wine and parmesan cheese. This brightly-flavored sauce pairs perfectly with any of our seafood filled ravioli varieties. If fennel bulb isn't to your liking, simply substitute fresh leek for a milder sauce.
Pictured: Lobster-filled, heart-shaped ravioli with Fennel & Parmesan Sauce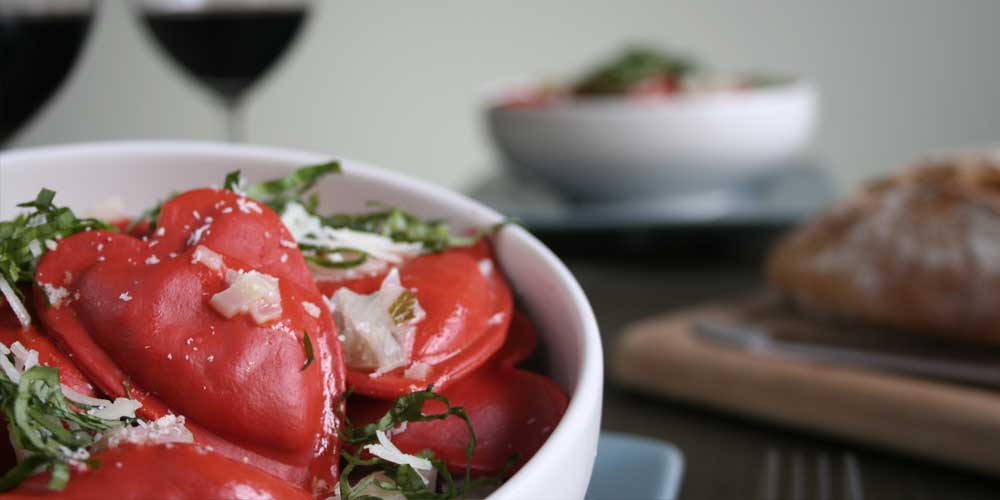 INGREDIENTS
4 tablespoons unsalted butter

1 shallot, finely chopped

¾ cup diced fresh fennel bulb or fresh leek (pale green & white parts only)

½ cup dry white wine

1 tablespoon lemon juice

2 tablespoons heavy cream

1 tablespoon chopped fresh Italian parsley
1 tablespoon fresh basil, cut into slender ribbons (chiffonade)
Note: to make chiffonade, roll basil leaves lengthwise into tight cylinder. Slice cylinder crosswise into 1/8 inch ribbons.
DIRECTIONS
1
Melt butter in large skillet over medium heat.
2
Add shallot and sauté 1 minute. Add fennel (or leek) and sauté until translucent, about 15 minutes, stirring frequently.
3
Add wine and lemon juice and bring to simmer. Allow liquid to reduce about 2 minutes, stirring occasionally. Stir in parsley and remove from heat.
4
Stir in cream, swirling until combined.
5
Place freshly cooked and drained ravioli in large bowl; toss with sauce. Divide ravioli among plates, spoon remaining sauce over top, and garnish with basil chiffonade and shaved parmesan.
Original recipe by Trina Kaufman.