Fennel Game Sausage Sandwich
WINE PAIRING
Miller High Life or Sasaparilla
Lighter flavored than our other sausage sandwich recipe, this sandwich includes savory accents that are subtle enough to let the full flavor of the sausage shine through.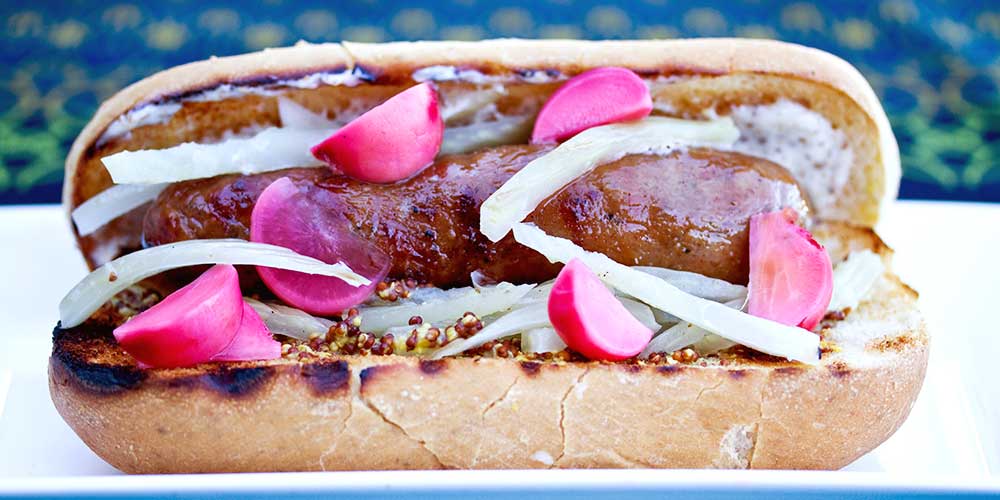 INGREDIENTS
1/8th of a Fennel Bulb per serving

1 heavy pinch Celery Salt

Whole Grain Dijon Mustard

Mayonnaise

Demi Baguettes, Brioche Rolls or Hoagie Rolls
DIRECTIONS
1
Preheat your oven to 375 degrees.
2
Cut the fennel bulb in half and pull apart into sections. Lightly coat them with salt, pepper, and oil. Put them into a baking dish and roast in the oven until tender.
4
Brush the bun with olive oil, butter, or
duck fat
, and toast or grill.
5
Spread mayonnaise and mustard on the toasted bun, add the sausage, and sprinkle on the celery salt.

6
Top with pieces of the roasted fennel bulb and pickled radish. Serve.