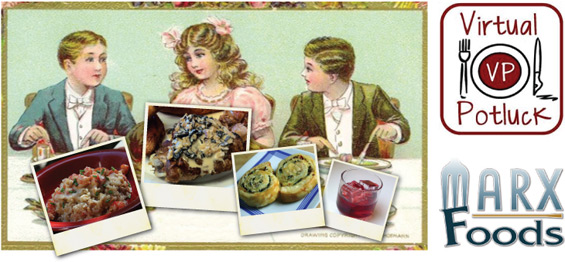 We partnered with Virtual Potluck, a group of delicious bloggers, by giving them some of our products and letting them unleash their creative genius. We sent a mix of dried chilies, dried mushrooms, vanilla beans and risotto rice…they came up with some really great recipes, just in time for the holiday weekend!
Make sure you check out all of the delicious recipes they created below:
Cookistry – Tres Flores Cocktail
Food Hunter's Guide to Cuisine – Arancini Stuffed with Spicy Exotic Mushroom Ragu
Bite and Booze – Chili Oil Seared Turkey Thighs with Brandy Wine Black Trumpet Cream Sauce
Diabetic Foodie – Spicy Mushroom Swirls
Not Rachel Ray – Cranberry Vanilla Rice Pudding
Thyme in Our Kitchen – Pumpkin Bread Pudding, Spicy Caramel Apple Sauce & Crème Anglaise
Miss in the Kitchen – Shrimp Roll
Foodie – Herbed Risotto with Spicy Mushroom Gravy
30A Eats – Black Trumpet Mushroom Risotto
Farmgirl Gourmet – Arborio Veggie Burger with Spicy Vanilla Bean BBQ Sauce
Cooking with Books – Spicy Polenta and Mushroom Ragu
The Groovy Foody – Spicy Vanilla Mushroom Risotto
Working with the bloggers in this group was a lot of fun, so we surprised one of them with another special ingredient to play with, just for fun! We heard your thoughts and considered all of the recipes, and Farmgirl Gourmet was the lucky recipient! We sent a bottle of Amarena Cherry Mosto Cotto for her to experiment with and of course, the results were delicious.
We hope you enjoyed this virtual feast!