Fava Bean Salad with Pomegranate Vinaigrette & Feta
Ahearty salad of fava beans, herbs, tomatoes & feta brightened with sumac and a pomegranate molasses. Refreshing & delicious!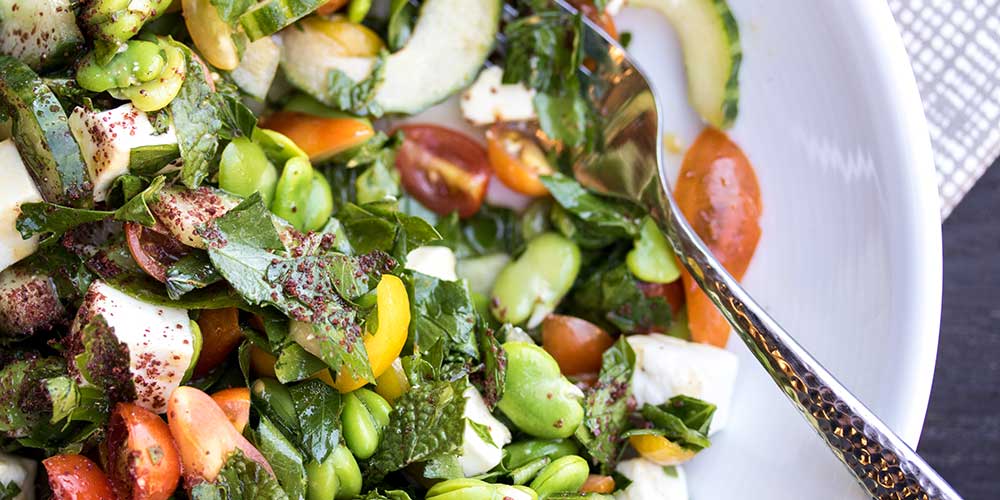 INGREDIENTS
2 lbs Fresh Fava Beans, shelled

½ English Cucumber

½ cup Mint Leaves

1 cup Flat Leaf Parsley Leaves

3 1/2oz French Feta, cubed

1 cup Cherry or Pear Tomatoes, halved

Sumac

Vinaigrette:

2 tbsp Pomegranate Molasses

2 tbsp Lemon Juice

1/2 cup Extra Virgin Olive Oil

1 pinch Salt
DIRECTIONS
1
Blanch the fava beans briefly in boiling water for 1 minute. Then move them into an ice bath to cool.
2
Slit the skin of each bean along the side with a knife, then squeeze the beans out of the skins with your fingers.
3
Halve the English cucumber portion, scoop out the seeds, and cut it into half moons.
5
Roughly chop the mint and parsley leaves together.
6
Toss together the herbs, fava beans, cucumber, tomatoes and feta.
7
Put the salad in bowls and sprinkle it with a little sumac. Serve.