Falafal with Curry Mustard Dipping Sauce
Crispy, fluffy, garlicy – these falafels ("faux-lafels") pair beautifully with a curried mustard dipping sauce. We know the recipe isn't exactly a traditional one, but it is tasty!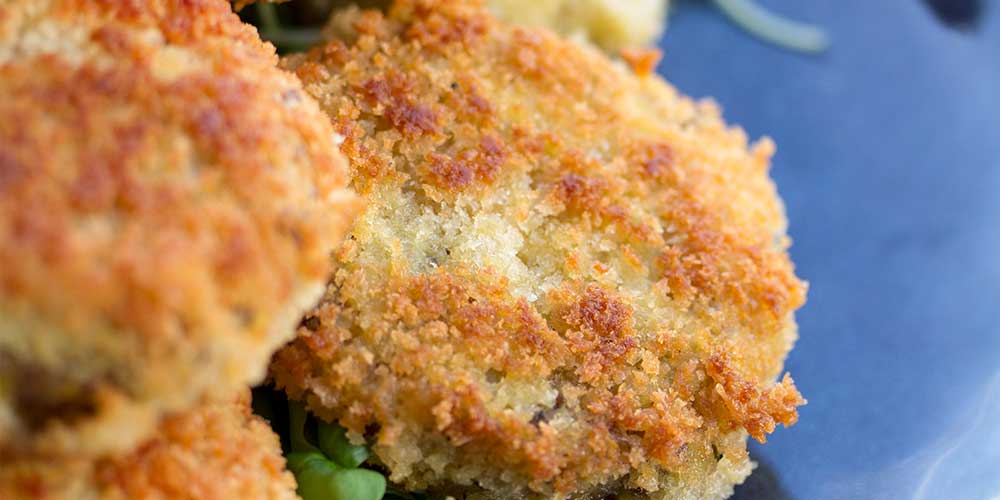 INGREDIENTS
2 cups Dried Black Garbanzo Beans

2 Yukon Gold Potatoes, boiled & mashed

2 cloves Garlic, minced

4 Egg Yolks

1 tbsp Salt

2 tbsp chopped Marjoram

½ tsp ground Black Pepper

Panko Bread Crumbs

High Heat Oil (Grapeseed, Canola, Peanut)
Egg Wash:

1 Egg

2 tbsp Water
Sauce:

1 cup Sour Cream

1/2 cup Mustard & Co Curry Mustard Sauce

1 Pinch of Salt
DIRECTIONS
1
Soak the garbanzo beans in cold water overnight.
2
Drain the water off the beans and grind them in a food processor until they're at a rough polenta (a little bigger than cornmeal) consistency.
3
Transfer the beans to a bowl. Mix them with the mashed potatoes, egg yolks, marjoram and black pepper.
4
Form the mixture into patties.
5
Beat the whole egg with the water to create egg wash. Dip the patties in egg wash, then roll them in the panko bread crumbs.
6
Optional: dip the breaded falafel in egg wash again, then panko again for extra crunchy results.
7
Mix together all the dipping sauce ingredients.
8
Put a bed of micro basil on a platter (or individual plates). Top it with pieces of falafel. Serve with the dipping sauce.