Evening Miso Soup with Mushrooms & Clams
Makes Approximately 7 Entree-sized Servings
Miso soup is a staple in Japan, where it can be found at breakfast, lunch, or dinner meals, usually served in a small bowl to the side of the main dish. Miso is an excellent source of protein, and so this soup is a great source of low-fat energy. Many people make miso soup using instant soup or instant dashi packets. Unfortunately these products usually contain a great deal of salt and MSG. Making dashi from scratch is quite easy, and once you've done that you're half way to being done with the soup.
What is miso?
Miso is fermented tofu. As the tofu ferments it becomes a richly flavored, aromatic paste that is very high in protein, vitamins, and minerals.
Which miso should I use in my soup?
There are two commonly found types of miso: light miso, and dark miso. You can actually use either in miso soup with great results. Light miso has a milder flavor that the Japanese like to use in miso soup served in the morning with breakfast or in the afternoon. It is commonly paired with silken or fried tofu, green onions, and sometimes seaweed. Dark miso (aka red miso) has been fermented longer, and has a much more robust flavor. Miso soups made with dark miso are usually served in the evening at dinner. You sometimes find stronger flavored ingredients in these evening miso soups, such as baby clams.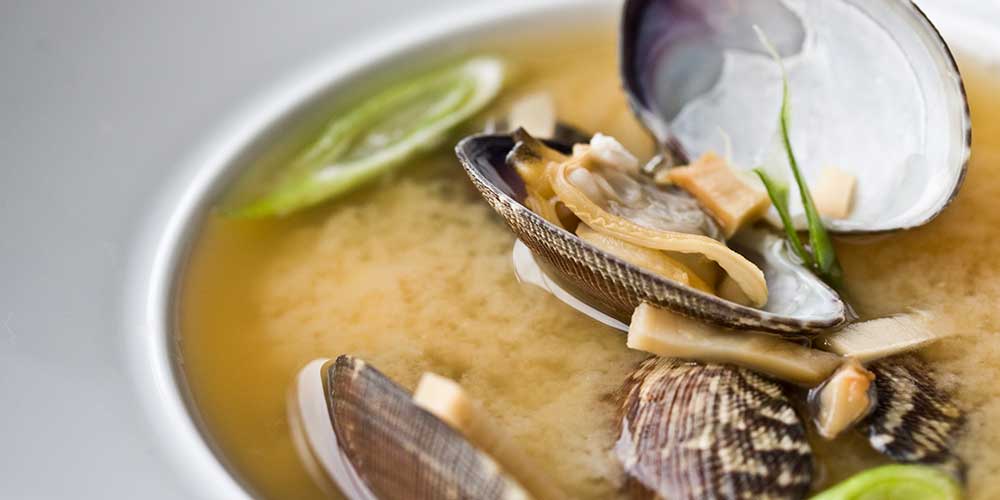 DIRECTIONS
1
Finely slice green onions on a bias and reserve for a garnish. Scrub the clams with a wire brush, discarding any that have cracked shells or are not tightly closed. Cut the tofu into small cubes if using silken, thin strips if you are using fried. Reconstitute the mushrooms if dried, and slice them into bite-sized pieces.
2
Simmer the clams and mushrooms in the home made dashi until they open, skimming off any particles that rise to the surface.
3
Remove the clams from the soup base, discarding any that have failed to open. If any sand has been released into the pot, strain the dashi before continuing.
4
Add the blocks or strips of tofu to the broth, and simmer for a few minutes on low heat so it will absorb some of the flavor.
5
Ladle some of the dashi stock into a small bowl and whisk in the miso paste. Once the mixture is smooth, add it back to the pot and stir to combine. Once the miso has been added to the soup, it must not be boiled.
6
Put the cooked clams in the bottom of each of your serving bowls (either in or out of the shell) and pour the miso soup over them. Top with finely sliced green onions. Serve with chopsticks so your guests can pick out the clam meat, tofu, and mushrooms (and stir the miso in case it starts to settle).